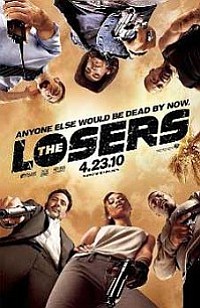 Originally Published: April 23, 2010 1:22 a.m.
The following movies are showing at Harkins Prescott Valley Cinemas, 7202 Pav Way, Prescott Valley (Highway 69 between Glassford Hill and Lake Valley roads). 775-7444; www.harkins.com.
ALICE IN WONDERLAND - An older Alice flees an unwanted marriage proposal and returns to Wonderland in this Tim Burton-helmed take on Lewis Carroll's fantastical story. Cast: Johnny Depp, Anne Hathaway, Helena Bonham-Carter, Crispin Glover. Rated PG for fantasy action/violence involving scary images and situations, and for a smoking caterpillar. Adventure/Fantasy.
(NEW) THE BACK-UP PLAN - A single woman opts for artificial insemination, only to finally meet the man of her dreams just as she learns she's pregnant. Cast: Jennifer Lopez, Alex O'Loughlin. Rated PG-13 for sexual content, some crude material and language. Romantic comedy.
THE BOUNTY HUNTER - A down-on-his-luck bounty hunter gets his dream job when he is assigned to track down his bail-jumping ex-wife, a reporter who gives him the slip so she can chase a lead on a murder cover-up. The two soon find themselves on the run for their lives. Cast: Gerard Butler, Jennifer Aniston, Christine Baranski, Jason Sudeikis. Rated PG-13 for sexual content including suggestive comments, language and some violence. Romantic comedy.
CLASH OF THE TITANS - Half-god, half-mortal Perseus must battle unholy demons and fearsome beasts to stop Hades from unleashing hell on Earth. Cast: Sam Worthington, Liam Neeson, Ralph Fiennes, Gemma Arterton. Rated PG-13 for fantasy action violence, some frightening images and brief sensuality. Action/Adventure/Fantasy.
DATE NIGHT - A run-of-the-mill married couple's date turns into a mistaken-identity-fueled action-packed adventure. Cast: Tina Fey, Steve Carell, Mark Wahlberg, James Franco. Rated PG-13 for sexual and crude content throughout, language, some violence and a drug reference. Comedy.
DEATH AT A FUNERAL - As mourners gather at the family home, shocking revelations, resentments, threats, blackmail and a misdirected corpse unleash mayhem. Cast: Chris Rock, Tracy Morgan, Martin Lawrence. Rated R for language, drug content and some sexual humor. Comedy.
DIARY OF A WIMPY KID -To survive the never-ending ordeal of middle school and attain the recognition and status he feels he so richly deserves, Greg devises an endless series of can't-miss schemes, all of which, of course, go awry. Cast: Zachary Gordon, Steve Zahn, Devon Bostick, Chloe Grace Moretz. Rated PG for some rude humor and language. Comedy/Family.
HOT TUB TIME MACHINE -After a crazy night of drinking in a ski resort hot tub, four friends wake up, heads pounding, in the year 1986. This is their chance to kick some past and change their futures. Cast: John Cusack, Rob Corddry, Craig Robinson, Lizzy Caplan. Rated R for strong crude and sexual content and nudity, drug use and pervasive language. Comedy.
HOW TO TRAIN YOUR DRAGON - Hiccup, a Viking teenager who doesn't exactly fit in with his tribe's longstanding tradition of heroic dragon-slayers, meets a dragon that challenges him to see the world from a different point of view. Voice cast: Jay Baruchel, Gerard Butler, America Ferrera, Craig Ferguson. Rated PG for sequences of intense action and some scary images, and brief mild language. Fantasy/Adventure/Family.
KICK-ASS - A teen sporting a mask and a painted baseball bat starts to fight crime even though he has no superpowers, while an ex-cop trains his daughter to be a lethal vigilante. Cast: Aaron Johnson, Nicolas Cage, Chloe Moretz, Christopher Mintz-Plasse. Rated R for strong brutal violence throughout, pervasive language, sexual content, nudity and some drug use - some involving children. Action/Adventure.
THE LAST SONG -In a small Southern beach town, an estranged father gets a chance to spend the summer with his reluctant teenaged daughter, who'd rather be home in New York. He tries to reconnect with her through the only thing they have in common: music. Cast: Miley Cyrus, Greg Kinnear, Kelly Preston, Bobby Coleman. Rated PG for thematic material, some violence, sensuality and mild language. Drama.
(NEW) THE LOSERS - A team of mercenaries wages war on the CIA after they're double-crossed. Cast: Jeffrey Dean Morgan, Zoe Saldana, Chris Evans, Idris Elba and Jason Patric. Rated PG-13 for sequences of intense action and violence, a scene of sensuality and language. Action.
(NEW) OCEANS - Nearly three-quarters of the Earth's surface is covered by water, and this film chronicles the mysteries that lie beneath captured by the latest underwater technologies. Narrated by Pierce Brosnan. Rated G. Documentary.