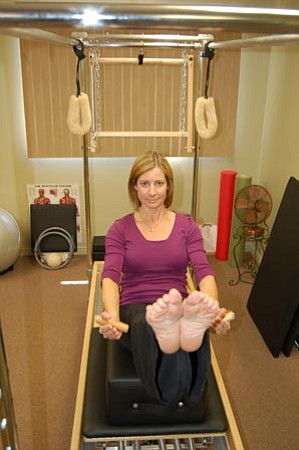 Originally Published: September 29, 2009 10 p.m.
Suzanne Fisher has built a career in the exercise industry.
She began teaching high-impact classes like aerobics and kickboxing nearly 20 years ago at a gym on Cortez Street.
That regimen took its toll on her physically and ultimately led her in a different exercise path.
Fisher opened Pilates in Balance earlier this month in the Granite Creek Plaza at 217 N. McCormick St., Suite 3.
"I had to find some way to move that didn't hurt, and pilates doesn't hurt," she said. "Pilates is unbelievably healing to the body. It just takes what you're doing in life and it makes it better. It changes your quality of life."
"It prevents injury in daily life," she added. "Pilates helps to restore healthy posture in the body.'
Fisher offers mat classes for groups of people, training with equipment for individuals, and a class through the YMCA for people living with multiple sclerosis.
"Everything I've done has always been exercise-related. I've always been drawn to moving people," she said.
"I teach to the person's body. Pilates movement is different for every single person."
Private sessions start around $45 for 55 minutes and prices vary for groups, according to Fisher.
Fisher's studio is open by appointment. For more information, call 925-5163.
More like this story