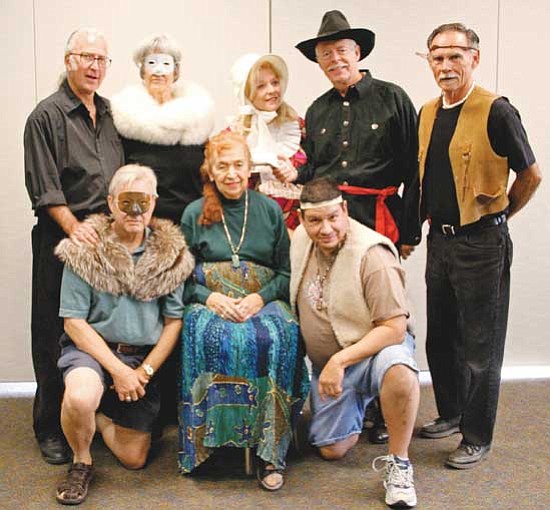 Originally Published: September 17, 2009 10:01 p.m.
"Custer and Friends," a Reader's Theatre play, portrays a slice of history that writer and director Robert Wiltsey has chronicled in an impressionistic style.
Except for bits and pieces of costuming that hint at each character's role, Custer and Friends follows the Reader's Theatre tradition to offer readings without sets and full costumes of stage performances. This challenges not only the director and actors but also inspires the audience to conjure up images as the drama unfolds.
Reader's Theatre will stage the play at 2 p.m. Sunday, Sept. 20, in the Prescott Public Library's Founders Suite in collaboration with the Prescott Fine Arts Association. Admission is free, and because of adult content, the play may not be appropriate for children.
At the core of Custer and Friends is a truth - that General George Armstrong Custer (Chuck Post) and William Tecumseh Sherman (Parker Anderson) came to the Prairie after the Civil War and appropriated what they thought was rightfully theirs. It portrays the suffering of the Native Americans, the earth and the armies of that period in history - in monologues and occasional interaction between a couple of characters to give insight into their relationship.
"Prairie" (Bunny Sherman), the main character, is like Mother Earth or Mother Nature as she narrates her destruction throughout the other characters' monologues. These individual readings describe the anguish and pain Custer and Sherman cause, and they also give the audience a glimpse of their motives and their characters. A dog and a coyote speak of the destruction in their own ways, illustrating, too, that animals kept watch over the destruction that occurred.
As an integral backdrop to this drama, Wiltsey introduces two other aspects of this era in history: the deep love between Custer and his wife, Libbie Custer (Grace Lemmon), and the affair between Black Buffalo Woman (Elaine Jordan), the wife of No-Water (R.A. Dittberner), and Crazy Horse (Alex Gabaldon).
The drama ends after Custer's Last Stand with philosophical dialogue between Sherman and Sitting Bull (Parker Anderson) about the sequence of events from their perspectives: the American side and the Native American side. And, Libbie Custer asserts her "undying love" for her husband in 19th century style.
Wiltsey conceived the idea for his play after reading documented accounts of that era and wrote it two years ago, adhering to historical fact.
"It's a symbolic play," he said, "more of a poetic kind of statement" on the human will and emotion between American settlers and Native Americans in the natural setting of the American prairie.