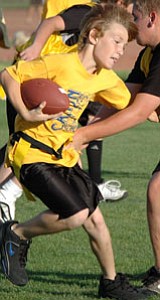 Originally Published: September 16, 2009 6:11 a.m.
Click here for related photo gallery
Click here to request any of these images as prints for purchase
Cañon Elementary School recently joined four other small schools in the Independent Schools Scholastic and Sports Association/Conference.
Participating in different sports and scholastic events along with Cañon are Sacred Heart and Trinity Christian in Prescott, and Acorn Montessori and Franklin Phonetic in Prescott Valley. Currently, a flag football and volleyball league are in season.
These photos are from the football game between Cañon (T-shirts) and Franklin (tank shirts) in Prescott Valley Sept. 8.
More like this story