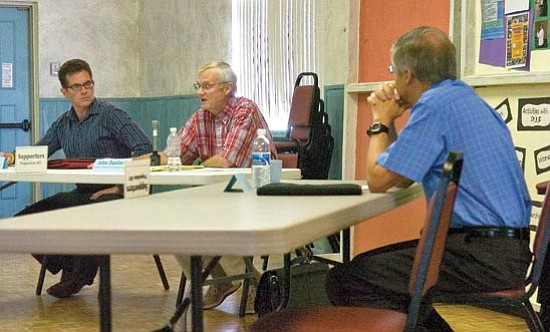 Originally Published: September 12, 2009 9:16 p.m.
PRESCOTT - If the City of Prescott wants to pay for a major infrastructure project such as a water pipeline or a sports complex, the Taxpayer Protection Initiative (TPI) proposes requiring the public to vote on the project if it costs $40 million or more, with adjustments for inflation over time.
Voters will decide the initiative's fate during the general election Nov. 3. In the meantime, the Citizens Water Advocacy Group, or CWAG, sponsored a two-hour debate Saturday to discuss its pros and cons.
Proponents of the TPI, also known as Prop. 401, say they are seeking greater taxpayer control over city spending to avoid saddling residents with massive future debt brought on by large infrastructure and construction projects.
Meanwhile, the initiative's opponents, who have no official spokesperson or group, say voters choose their elected officials to make spending decisions and should let their council members decide.
Arguing against the TPI, Prescott Chamber of Commerce CEO Dave Maurer said his organization's board opposes the initiative process.
"Any project that is $40 million or more will take a great deal of time to come to fruition," he said. "Special interest groups, including CWAG, the chamber and others, can make comments and perhaps steer future decisions related to that particular project."
Much of the current debate centers on the city's desire to build the proposed multi-million-dollar Big Chino Pipeline, which would pump groundwater from the Big Chino Sub-basin near Paulden for Prescott's use.
Those who support the pipeline argue that it is needed for the city to eventually reach safe yield - or recharging as much water as is extracted from the Prescott Active Management Area - as required under state law.
However, those who oppose the pipeline say Prescott ultimately will pump too much groundwater from the sub-basin and, in turn, harm the flow of the treasured Verde River and its surrounding environment. They also worry about a pipeline project that wastes taxpayers' money.
If approved, the initiative simply would bring the issue of building the pipeline to a public vote.
Arguing on behalf of Prop 401, Taxpayer Protection Committee member John Danforth and chairman Brad DeVries said that traditionally if an Arizona city wanted to go into debt to pay for a big infrastructure project, it had to issue bonds. They added that the State Constitution required voter approval before the bonds were issued.
Over the years, Danforth said, Prescott and other Arizona cities have found and widened loopholes in the law, allowing local governments to circumvent the requirement and cater to powerful special-interest groups.
"If that (pipeline) project is structured in a way that makes economic sense for the average citizen and deals effectively with potential legal and environmental contingencies, I'm confident it will be approved overwhelmingly by Prescott's voters," he said.
The Taxpayer Protection Committee says that under current law, "yes" votes from only four of seven city council members are needed to approve borrowing and spending $100 million or more without seeking or receiving voters' consent.
"Our city council has the power to spend money in ways that dispel concentrated benefits on a few with cost disbursed over all taxpayers," Danforth said. "Those few citizens who stand to receive concentrated benefits have a powerful economic incentive to influence spending decisions by the council."