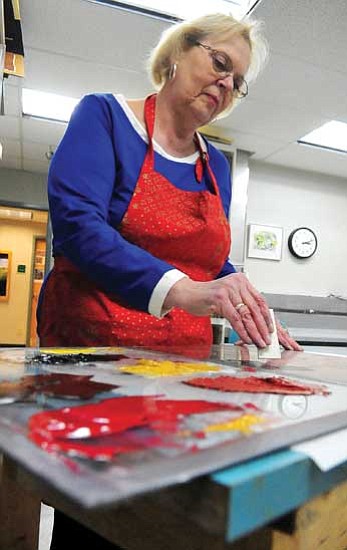 Originally Published: October 29, 2009 10:01 p.m.
Les Femmes des Montage, nine artists who specialize in different media, will exhibit their diverse collection on Nov. 7 in the Hassayampa Inn's Marina Room.
"Montage" is a French word, with one definition that means "piecing together separate sections ... to form a continuous whole," and that's what guests will see - a display of diverse works ranging from exquisite print-making and elegant jewelry to fiber art and mosaics that come together in one show.
"I can't imagine what's not covered," said artist Maria Lynam of the 800 pieces that will be in the artists' fifth annual exhibit and sale.
Patricia Tyser Carberry makes her own beads using the ancient technique of lampworking. To make each bead, she melts glass in an oxygen propane flame at temperatures greater than 2000 Fahrenheit and then anneals the beads in a kiln. Each creation is different, and Carberry often incorporates her handmade lampworked beads with Swarovski crystals, silver from Bali and freshwater pearls.
Elizabeth Khalife, a mixed media artist, is working on a series of Asian-inspired relief prints that she prints over monotypes. Her work is contemporary with an original dynamic as she explores religious, political and social issues in her art.
Lynam is a multi-media artist, and she uses her photographs, hand-printed and handmade papers in printmaking, mixed media and collage. For this show, she has been doing digital prints and applying these to paper that she has hand-printed. Lynam often incorporates gold leaf and other organic materials in her art. And, many of her works are abstract compositions based on organic elements in which the colors and forms establish harmonious and balanced relationships.
Joanne Manginelli, whose creations start with raw wool or clay, is a spinner, weaver, designer and potter. "Earth & Fire Designs" began with her concept of creating accessories that would integrate this love of fiber and pottery. Her designs include pins to adorn hats, scarves or lapels, kits for knitters, bobbin/skein holders for spinners and fiber lovers, as well as other accessories. She will exhibit a new collection of wearables in the show.
Sharon McFeely is a fiber artist who finds inspiration in photography and digital art. Her unique felted wall hangings are a favorite among collectors. She also crafts hand-dyed scarves. Her photographs are of nature, and she often enhances her designs by using digital photography.
Cindi Shaffer, a glass and jewelry designer, describes her work as "the dance within glass between light, color and texture that is the never-ending inspiration" for her work. The appearance of glass is ever-changing, day to night, sun to rain, she says. Move the piece to a new location "and the dance begins again." Shaffer's favorite form of glass is cast sculpture. She sculpts clay originals, makes molds of the originals and then casts them in glass. She creates both functional art and jewelry, and often combines glass, sterling silver, fine silver, copper and glass enamels in designing her jewelry. She will exhibit hand-blown Christmas ornaments, along with her new collection of fused-glass bead jewelry, in the show.
Mary Shulte is a mosaic artist, ceramicist and jeweler. She creates both functional and non-functional mosaics. Her clay pieces are extraordinary because of the attention she gives to details in her work, making her jewelry playful and fun to wear.
Autumn Summerfield is also a fiber artist. Her first love is nuno felting, and she has crafted many interesting garments and wall hangings using this technique. She also knits, crochets and creates mixed media art journals using fabrics, paints and paper. She is also doing hand-quilted quilts and wall hangings. Among her popular creations are fabric covers for altered books.
Barb Wills, a painter and fiber artist with an international reputation, hand-prints on silk. She creates wall hangings, pillows and scarves. All of her work is multi-layered, allowing viewers to look closely through the layers to see and feel the beauty of a piece. She will exhibit a collection of hand-painted silk scarves, pillows covered with hand-painted fabric and her wall hangings.
The Les Femmes des Montage show will run from 11 a.m. to 8 p.m., featuring a cash wine bar and the music of Sequoia, a classical guitarist.
Ten percent of the profits from sales at the show will benefit art in the schools.
More like this story