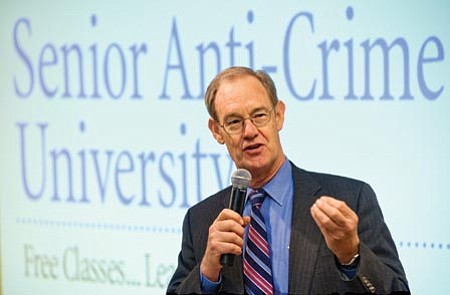 Originally Published: October 28, 2009 9:57 p.m.
Seniors attending Arizona Attorney General Terry Goddard's Anti-Crime University Tuesday morning in Prescott expressed concerns about identity theft and Medicare fraud, as well as lottery and sweepstakes scams.
Mary Hawkes, director of the Yavapai County branch of the Better Business Bureau, said the biggest threats to seniors are scams offering "free money. Seniors are also victims of loan modification schemes."
Goddard and his staff members began the senior university with one goal in mind: to lessen the chance of scam artists taking advantage of senior citizens.
On Tuesday, participants could attend sessions on avoiding fraud and scams, life care planning, personal safety, safeguarding seniors from abuse and neglect, senior Internet safety, identity theft, financial exploitation and investment fraud, and reverse mortgages.
Prescott resident June Ruth has never been a victim, but she wanted to learn about personal safety and how to protect herself from scams.
Prescott Valley resident Fred Brown is considering volunteering with the AG's Senior Sleuths program and wanted to "find out what the topics mean before I volunteer. Depending on what I hear here, I will decide whether to volunteer."
Goddard gave warning signs seniors should watch for.
"(Scam artists) are experts at gaining people's trust," he said. "The best way to prevent becoming a victim is education. Without it, seniors fall prey to scam artists."
Seniors receiving letters starting with "you may have already won" should read the fine print. Lotteries or sweepstakes that require the person to deposit a check and then return the majority of the money, or to send money to pay for claim expenses or exchange rates, are scams.
"The bottom line is that scam artists are everywhere and no one is immune from scams. That is why we started the Senior Sleuth program," the attorney general said. "The program extends the reach of the AG's office with volunteers."
Prescott residents Jane Antilla and Kyle Ann Fitzgibbons attended the event to "be more aware" of what is happening around them.
After the first sessions, Antilla said, "I learned I could sign up for online scam alerts."
Ruth attended the Medicare fraud session and "learned that fraud is worse than I thought and very expensive for taxpayers."
Goddard's message to seniors is "Be careful, be suspicious and ask questions. Unfortunately, many people of a certain age grew up trusting people and taking them at their word. That is not the way it is today."
As a general rule, officials from the AG's office want people to remember, "Anything that requires you to send money to make money is a fraud."
The AG's office is recruiting senior volunteers for the Senior Sleuths program. Officials will train seniors to identify and report scams and fraud, including Medicare fraud, and to use their knowledge to educate other seniors.
Senior Sleuths can help by collecting junk mail, keeping a log on telemarketing phone calls they receive, attending free presentations, and making reports to the AG office.
For additional information about the Senior Sleuths program or other information about crimes against seniors, visit the Attorney General's website at www.azag.com and click on the Seniors tab; e-mail SeniorSleuths@azag.gov; or call Pam Stevenson, the AG's Elder Issues Coordinator, at (602) 542-7578.