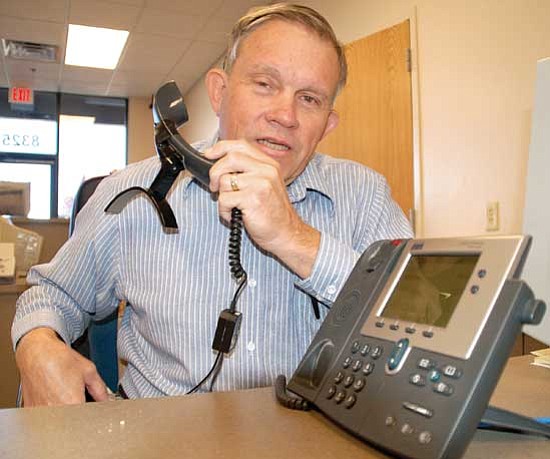 Originally Published: November 26, 2009 10:01 p.m.
PRESCOTT - Jack Clevenger of Prescott will look you in the eye and tell you that going deaf may be a disability, but isolating from society makes it a handicap.
"If a person goes in isolation because of a hearing loss or going deaf, it gets harder and harder to stay in touch," he said. "That's the devastation of the handicap, not the disability."
Clevenger knows - he is "deaf as a rock."
He started losing his hearing in 1949 at the age of one month. His parents thought something was wrong when he stopped making sounds at three months old.
"My mom and dad snuck up behind me and clapped their hands real loud and I didn't make a move," he said. "That's when they took me to an EENT (eyes, ears, nose and throat specialist), and he told them I was losing my hearing."
Clevenger refused to let his disability become a handicap. He worked 25 years at Mesa Community College and another two years as Yavapai College's disability resources coordinator.
Now at age 60, he is a vocational counselor at West Yavapai Guidance Clinic, a board member of the Governor's Arizona Commission for the Deaf and Hard of Hearing (ACDHH,) and is the communication director for the Prescott chapter of the Hearing Loss Association of America.
He can read lips and sign language. What he does best, though, is talk.
"I hear sounds like sounds," he said Wednesday, explaining the marvel of his cochlear implant. "I hear you speak clear with a mid-tenor voice."
Clevenger said that people hard of hearing or deaf have a wealth of resources available to them, and many assistive technology aids such as telecommunication equipment is free to qualified individuals.
Clevenger grew up in the 1950s with a large hearing aid dangling around his neck.
"Lots of kids made fun of me," he said.
A cochlear implant enables Clevenger to hear music, voices and talk on a telephone with the aid of an adaptor. An assisted listening device plugged into his cochlear processor allows him to filter out background noise.
"When we are in a restaurant with lots of noise around, I can hear my wife better than she can hear me," he said, referring to Diane, his wife of 34 years, who is not deaf or hard of hearing.
"My advice to people with hearing loss is to be proactive and stay involved," Clevenger said. "The last thing they should do is isolate themselves. That's what we (Prescott HLAA) do is give them tools to work with.
"My advice to parents of children losing their hearing is not to panic. You have a long road ahead of you, but the longer you wait to get help, the more severe the consequences."
Clevenger said that for each year that a child losing his hearing does not receive help, is a year that child loses in cognitive and educational development. He said that parents' and children's first thought is to learn sign language, but that may not be the best start.
"If you learn sign language, everyone around you has to learn it," he said.
Ten years ago, when he had about a 75 percent hearing loss, Clevenger's worst nightmare came true.
"It was at 7:33 p.m., Nov. 6. I was watching television and everything went quiet," he said wistfully. After changing the battery in his hearing did not make a difference, he knew what was wrong - he had gone completely deaf in a blink of an eye.
"I didn't want to upset and worry my wife, so I waited until the morning to tell her," he said.
"When I give presentations, I tell the audience to remember one thing more than anything: There is a lot help available and it is not hopeless to be deaf. But they need to take the initiative and get help."
The Prescott chapter of HLAA meets once a month on Saturdays at the Prescott Public Library. The next meeting is at 10 a.m. Dec. 19. People interested in learning about the meetings may e-mail Clevenger at jclevenger_85202@yahoo.com, or call 480-330-3830.
Information about assistive technology opportunities is available at www.nau.edu/aztap. To learn more about resources available from the Arizona Telecommunications Equipment Distribution Program (AzTEDP), a state-financed program that provides telecommunication devices, visit www.acdhh.org/teleprogram.
"The big thing (for deaf and hard of hearing) is acquisition of language," Clevenger said. "If you don't have language, you don't have the tools to succeed."
More like this story