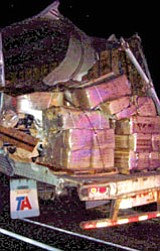 Originally Published: November 18, 2009 6:09 a.m.
When Black Canyon City Fire Chief Tom Birch received a call at about 12:30 a.m. on Nov. 10 that a bus and semi-tractor trailer had collided near Sunset Point, he braced himself for the worst. Thankfully, the reality was much less daunting.
Birch immediately requested backup from Mayer and Daisy Mountain fire departments, and headed for the scene, where a Las Vegas-bound Greyhound bus had collided with the back of a tractor trailer. They found the uninjured truck driver and 17 passengers and the driver of the bus, some of whom had minor injuries. All refused transport to hospitals.
"The front door of the bus was non-existent and we had to assist everyone out the windows," Birch said.
Using ambulances and fire trucks, fire personnel brought all the people in the bus to the BCC fire station until another bus arrived.
Birch said the accident was the first involving a bus in the 13 years he has been in Black Canyon City, and it offered a good training drill for the emergency personnel that responded.
He said he was surprised that the accident was not worse after he saw the damage to the vehicles.
"It's pretty amazing, looking at the potential," he said.