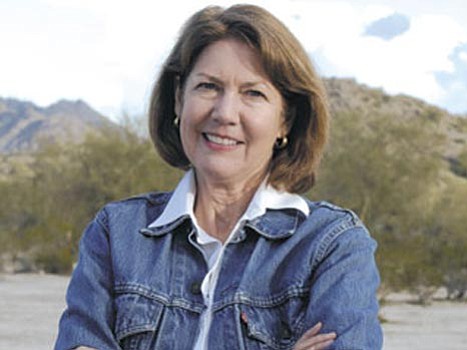 Originally Published: November 4, 2009 12:52 a.m.
U.S. Rep. Ann Kirkpatrick offered constituents several examples Tuesday of how she is trying to be fiscally conservative with taxpayer money.
She fielded 19 questions from callers throughout the sprawling 1st Congressional District during the first of four "tele-town halls" focusing on specific topics.
She told others who didn't get to ask questions within the hour-long town hall that they could submit e-mail questions via her website at kirkpatrick.house.gov, or call her Prescott office at 445-3434. The website also will feature a recording of the event later this week.
This tele-town hall focused on how to rein in federal spending and Kirkpatrick didn't hear anyone say Congress should spend more, although several people wanted the government to help create more jobs.
The federal deficit is nearing $12 trillion for the first time, and that adds up to $39,000 for every man, woman and child in the country, Kirkpatrick said. The U.S. owes China $802 billion.
"We are falling deeper and deeper into debt every day, and there is no end in sight," Kirkpatrick said. The actions of both parties throughout the past decade are to blame, she added.
Kirkpatrick listed several actions she said she has taken to help reduce spending:
• She opposed the Wall Street bailout.
• She is an original co-sponsor of pay-as-you-go legislation that cuts $1 for every new $1 spent.
• She proposed a "do more with less" plan to cut five percent from every appropriation request.
• She supports ending billions of dollars worth of tax loopholes.
• She voted against the "cash for clunkers" program because she doesn't believe it's appropriate to use tax money to help those big industries.
• She signed onto a new bill seeking the creation of a bipartisan commission to produce a deficit reduction plan (H.R. 1557).
• She opposes a 2010 pay raise for Congress.
• She supports putting all the payback money from Wall Street bailouts into the pay-down of the national debt.
• She voted against some appropriations bills, including items such as refurbishing the U.S. capitol.
Kirkpatrick defended new federal spending through earmarks and the stimulus package, saying transparent earmarks help small communities pay for infrastructure they otherwise couldn't afford and the stimulus package is creating much-needed jobs.
However, she said she supports efforts to put restrictions on earmarks. She said one bill that she is co-sponsoring (H.R. 3233) would make earmarks more open to the public and prohibit personal gain by members of Congress. She noted that she lists her earmark requests on her official website.
The stimulus package has created 800 jobs in the 1st Congressional District, Kirkpatrick said, although the district still has lost even more jobs. That's why she would have preferred to see Wall Street money to go creating jobs for average citizens, she said.
One caller named Adam from Prescott Valley (callers didn't give their last names) said the Glassford Hill Road repaving project was the first time he had known of any local jobs that the stimulus package created, because he saw a sign about it.
Other new jobs in the Prescott area include 20 for energy efficiency, five for the Campbell Street repaving project in Prescott, and numerous law enforcement jobs, Kirkpatrick said.
Kirkpatrick's next tele-town hall subject is "Keeping Our Promises to Our Veterans" at 5:10-6:10 p.m. Monday, Nov. 9. To participate, dial 877-269-7289 and press 15024 when prompted.