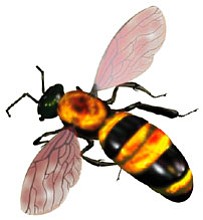 Originally Published: May 29, 2009 11:16 p.m.
PRESCOTT - Bees are our friends - although it's hard to remember that if they're chasing you.
Yavapai County Community Health Services wants to remind people that bees are not likely to sting unless threatened, so don't provoke or disturb them this summer.
If you regularly see many bees, health officials said in a press release, be alert to the chance there may be a wild honeybee colony nearby. Look for numerous bees flying in and out of an opening such as a crack in a wall, a hole in the ground, or any other place where bees can build a hive.
If you find a hive, keep everybody away, including pets, health officials said.
Do not disturb them or try to remove them yourself, but don't ignore them either, even if they don't seem to be a problem. If they are "Africanized" they may be especially aggressive.
If attacked by bees, run away as fast as you can in a straight line, health officials said. Try to get to a shelter such as a car or house. Bees can follow a person as far as half a mile from their nests, when they likely would no longer consider you a threat to their hive.
If you are stung, embedded stingers can continue to inject venom for up to a minute. Scrape out stingers with a fingernail, credit card, pocketknife or other sharp-edged object, health officials said.
Do not pull them out with tweezers or fingers, because you can squeeze more venom into your body.
If you see someone in distress being stung by bees, call 911.
If a hive is on private property, the owner is responsible for its removal, health officials said.
If a property owner does not remove the hive and you are concerned about safety, contact Yavapai County Community Health Services at 771-3149.
Brian Supalla, the county's public health protection manager, says most property owners are responsible people, but, "We once had to get a court order and do it ourselves to protect others in the neighborhood."