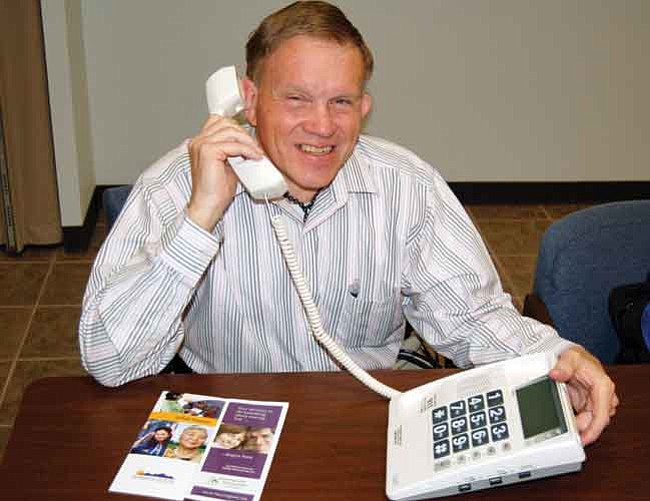 Originally Published: March 7, 2009 10:08 p.m.
Jack Clevenger, who has suffered with a hearing loss since he was a tot, has organized Prescott Hearing Loss Association, a local chapter of Hearing Loss Association of America, in the quad-communities.
A native of Phoenix, Clevenger holds a B.A. in sociology from Arizona State University and an M.A. in counseling from Northern Arizona University. He worked 25 years as a program advisor at Mesa Community College's Disability Resource & Service for Students with Disabilities. Then he became the coordinator of Disability Resources at Yavapai College for a year before retiring in 2008.
"After retiring from Yavapai College, I wanted to do something for people in the area who have a hearing loss," he said.
HLAA, Clevenger said, is the nation's foremost membership and advocacy organization for people with hearing loss. It currently has 230 chapters in 14 states.
Clevenger said PHLA has had two meetings since the first of the year. The group meets from 10-11:30 a.m. on the fourth Saturday of each month in the Prescott Library.
The meetings are open to residents of all ages who have hearing loss or anyone who would like to learn more about the problem.
Some of the effects people suffer from being hard of hearing include isolation, communication difficulties, employment, socialization and education problems, and a smaller vocabulary, Clevenger said.
At the group's meetings, which are free, members are informed about the technology that is available to help them. He said a lot of people aren't aware of the Arizona Telecommunications Equipment Distribution Program and what it offers, like amplified telephones, CapTels (caption phones), TTYs and speech devices.
Some of the items he will cover at future meetings include the challenge to change attitudes; dependence and independence; effects of hearing loss at home, socially and at work; fear: fight or flight; the differences between being deaf and hard of hearing; how to communicate with a hearing person; how to help a non-hearing-aid-user; living alone with a hearing loss; problems of parents and children with hearing loss; recognizing signs that a loved one cannot hear well; and troubleshooting one's hearing aid.
Anyone interested in joining the group or getting more information can call Kim Todd at 776-0998 or Janice Woodson at 776-4707, or e-mail Clevenger at jclevenger_85202@yahoo.com.
More like this story