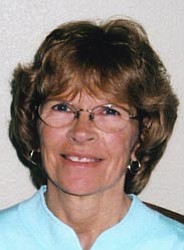 Originally Published: June 9, 2009 5:02 p.m.
Barbara L. Moriarty, age 64, passed away at her home in Prescott, Ariz., on June 7, 2009. She was born Feb. 13, 1945, in Staten Island, N.Y., to Roy and Marion (Cole) Fuller. She was raised in Staten Island and Sparta, N.J., graduating from Sparta High School in 1963.
She was an active member of Sacred Heart Parish and a member of the Sacred Heart Altar Society.
Barbara loved children and was a dedicated pro-life advocate. She was a foster mother to 65 newborns over the years through Catholic Charities. She loved to quilt, garden and embroider and especially enjoyed volunteering at the Arizona Pioneers Home for the past 15 years.
Barbara is survived by her loving husband, James; son Robert Moriarty (Chris) of Colorado Springs, Colo.; daughter Karen Batchelor (Darrin) of Scottsdale, Ariz.; grandchildren Melissa Shahan (Donald III), Jamie Moriarty, and Sarah Jo Batchelor; and three great-grandchildren, Lilly, Savannah and Donald IV. She is also survived by her mother, Marion (Fuller) Richards of Prescott, Ariz.; brother Kenneth Fuller (JoEllen) of Stockholm, N.J.; stepmother Billie Fuller of McMinnville, Ore.; half-brother Kelly Fuller of Graham, Wash.; and half-sisters Kathie Schumacher of McMinnville, Ore., Karen Colgrove of Las Vegas, Nev., and Kaliece Heerman of St. Paul, Ore. Her father, Roy Fuller, preceded her in death.
Rosary will be at 6:30 p.m. Sunday, June 14, 2009, with visitation starting at 4 p.m. at the Arizona Ruffner Wakelin Funeral Home, 303 S. Cortez, Prescott.
A celebration Mass will be 11 a.m. Monday, June 15, 2009, at Sacred Heart Catholic Church, 150 Fleury.
Final Commendation and Farewell will be 1:45 p.m. at Mountain View Cemetery.
Memorials in Barbara's name may be made to Catholic Charities Adoption Program, 434 W. Gurley, Prescott, AZ 86301, or Hospice of the Pines, 13175 E. Highway 169, Dewey, AZ 86329.
Arizona Ruffner Wakelin Funeral Home assisted the family. You are invited to log onto www.ruffnerwakelin.com to sign Barbara's guestbook, view a tribute to her and share a memory with the family.
Information provided by survivors.
More like this story