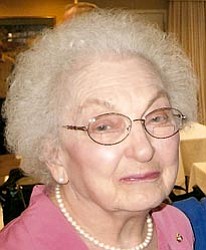 Originally Published: July 25, 2009 9:06 p.m.
Emma Kantak, 87, was born Dec. 23, 1921, in Detroit, Mich. She left us on July 17, 2009, at her home in Prescott, Ariz., after a truly God-blessed marriage of 68 years.
Emma is survived by her husband, Bob, a retired Detroit firefighter; her daughters, Carol, Jackie and Roberta; her son, Tim; and a loving brother, Bruce; plus five grandchildren and two great-grandchildren.
She became known to many in the area as Bob's "Hungarian Queen." As a dedicated housewife, homemaker and devoted wife and mother, she was loved and respected by all who knew her. Emma and Bob were loyal Sabbath keepers and were members of the Christian Biblical Church of God for 26 years. Bob remarked, "It was God's plan for my sweetheart to move on and I'm looking forward to joining her soon in the first resurrection, thus our separation is very temporary."
There are no services scheduled at this time. Memorial donations in Emma's name may be made to Granite Mountain Hospice, 3107 Clearwater Dr., Prescott, AZ 86305.
"Hampton Funeral Home made all the arrangements and they did a fine job."
Information provided by survivors.