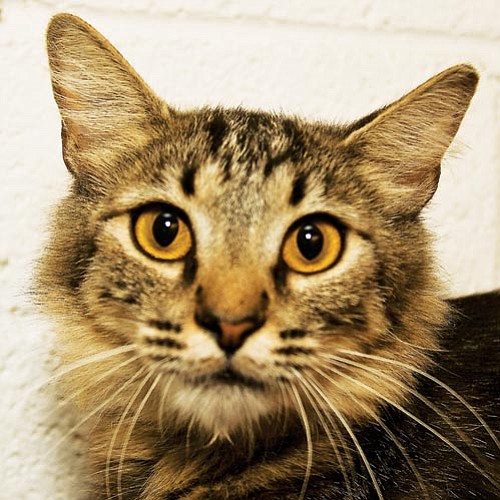 Originally Published: July 8, 2009 9:47 p.m.
I don't mind light breezes, but the chronic dust storms of late have been inconvenient to say the least. My disdain for what seems like more wind than usual this year has more to do with the increase of valley fever in these weather conditions.
Valley fever is caused by Coccidioides immitis, a fungus that exists in many places, including the soil of southern Yavapai County. There has also been concern of the potential for greater exposure to the fungus outside of its typical area because of the high winds and blowing dust.
At Yavapai Humane Society, because we have dogs relinquished to us from all over Yavapai County, as well as from other rescue organizations around the state, we do see dogs that have been infected or at least exposed to the organism that causes valley fever.
I recently adopted a dog from YHS. The minute I met her I knew she would fit well into our family herd. She was thin but otherwise healthy, but over the next few weeks I became concerned - she was limping and failed to gain weight despite a good appetite. My first inclination was to chalk it up to stress, lifestyle changes and just being a typical Jack Russell terrier. But the clinical signs have continued, and what I have come to deal with in all of my dogs since living in the beautiful and challenging Sonora Desert area cannot be ignored. I will be having her tested for valley fever.
Valley fever is caused by inhaling dust or dirt contaminated with the fungus. It may simply cause a low-grade chronic cough and calcification of local lymph nodes or, if the immune system is weak, can cause pneumonia or spread throughout the body. High winds, land development (including putting in swimming pools, fencing, and so forth) and even crop harvesting have led to outbreaks of this infection because such incidences stir up fungal spores. Once the spores are in the air, they can be inhaled and cause infection.
More than half of the animals and people exposed to this fungus never get sick. What about the remainder who do? It only takes one to three weeks from the inhalation of fungal spores before symptoms, usually coughing, are noted. Fever, weight loss, and appetite loss accompany the cough. If the fungus escapes the lung and travels to other parts of the body, the prognosis can be much worse. Several months can pass between the initial cough (which may be so mild it goes unnoticed) and signs in another organ system. After the lung, the fungus spreads to bone, then eyes, heart, testicles, brain, spinal cord and abdominal organs. In cats, the symptoms are draining skin lesions with fever, weight loss and poor appetite. The respiratory phase is rarely noted in cats.
A sick animal is usually not contagious to other animals. There is only one documented case of infection through a bite. Though animal-to-animal spread is not likely, those living in the same environment are equally exposed, although animals that dig in the dirt increase their chances. There are no vaccines available to prevent valley fever. Which animals get sick all comes down to their immune systems.
I am hoping that my dog's antibody levels for valley fever turn out to be negative. But if she does have valley fever, I will pursue treatment and follow-up testing, often recommended at three-month intervals, for as long as necessary. It is not unusual to have to treat valley fever for a year or longer. Limiting exposure to dust and potential sources of fungal spores is the only effective defense. However, because dogs will be dogs, keeping a close eye and an open mind to the possibility of valley fever if you notice coughing, limping, lack of appetite and/or weight loss will at least allow for early diagnosis and increase the likelihood of successful treatment of the disease.
If you have questions or would like further information regarding valley fever, contact your local veterinarian.
Dr. Lisa Darling, DVM, MBA, shelter veterinarian at the Yavapai Humane Society, can be reached at ldarling@yavapaihumane.org or at the shelter at 445-2666.