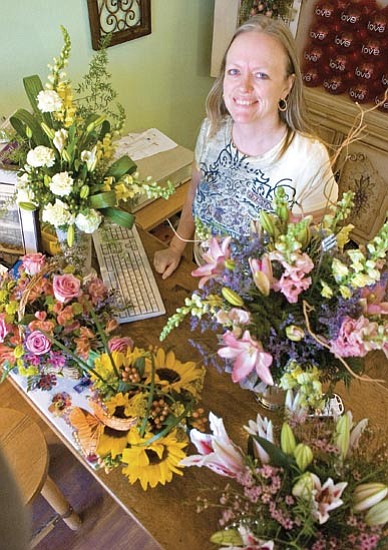 Originally Published: January 31, 2009 10:12 p.m.
It's a few weeks before Valentine's Day and Rakini Chinery finds herself in an unexpected situation.
Rakini and her husband Jim sold Allan's Flowers, the oldest flower shop in Prescott, to another couple in June 2006.
Now Rakini and Jim are back behind the counter.
Rakini says the lagging economy and poor business decisions by the previous owners are mainly to blame for the role reversal of a business that began in the city in 1914.
"That's such a long time," she said. "I know all of the customers. I just didn't have it in my heart to close the doors."
Rakini says her career at the shop began to blossom when she got a job there in September 1989 doing a bit of everything, including delivering flowers, washing flower buckets and sweeping the floor.
A decade later, Rakini and Jim bought the business in November 1999.
"We had a very strong business when we sold it and we put a lot of very hard work into it," she said.
When Rakini and Jim sold the business in 2006, they carried the loan.
But things didn't work out.
Rakini said one of the mistakes the prior owners made was raising prices too high.
After the couple defaulted on four months of loan payments, Rakini and Jim decided to take action.
"They locked the door on Dec. 23, never to return," she said.
Jim and Rakini came back to the store on Jan. 2 not knowing what to expect.
The delivery van was gone and the shop was pretty empty, according to Rakini.
But all the equipment was still working and the customer database was intact.
Like his wife, Jim says he didn't expect to find himself running the business again at 520 W. Sheldon St.
"It's a 95-year-old business and we have our responsibilities to it," he said.
The plan is to bring the business back to where it once was and rebuild the solid customer service Rakini and Jim originally put into the store.
"I'm willing to get as creative as we need to get," she said. "We're always up for a challenge."
More like this story