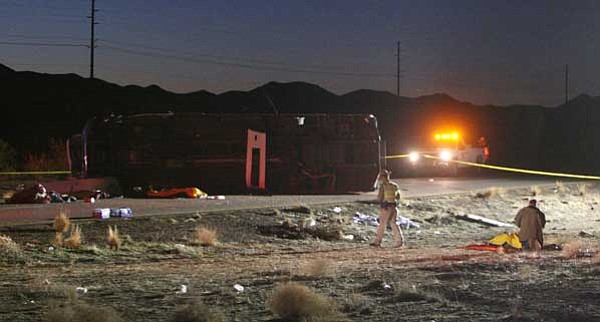 Originally Published: January 31, 2009 4:56 a.m.
DOLAN SPRINGS, Arizona - A trip to the Grand Canyon turned deadly when a bus carrying Chinese tourists overturned on a highway near the Hoover Dam, killing seven people and injuring 10 others, several critically.
Investigators were trying to determine why the bus crashed on U.S. 93 late Friday afternoon, ejecting several people. Six people were pronounced dead at the scene, while a seventh died at a hospital, said Cmdr. Dean Nyhart of the Arizona Department of Public Safety. The driver was among those in critical condition, he said.
Investigators from the National Transportation Safety Board planned to arrive at the scene today to help with the probe, said Sgt. Tom Eaves, a DPS spokesman.
The passengers were Chinese nationals who had flown from Shanghai to San Francisco and had most recently been in Las Vegas, according to DPS. They left Las Vegas early Friday for a trip to the Grand Canyon and were returning when the rollover occurred.
Shanghai's municipal government has contacted a U.S. travel agency for help in identifying the victims, the official Xinhua News Agency said today. It reported that the bus was carrying 15 people from a 20-member group.
The bus was traveling north on the highway - the main route between Phoenix and Las Vegas - when it veered right, overcorrected, crossed the median and rolled at least once before stopping, Nyhart said.
Several people at a nearby diner immediately rushed to the scene.
Sheila Larsen, who works at Rosie's Den, said she went outside after hearing a loud crash and screams and found people lying on the roadway, with paper and money strewn across the area.
She said the best she could do to comfort the victims was bring them blankets, towels and water. "The woman I was trying to comfort didn't speak English. I was trying to comfort her and she died," Larsen said.
Debbie Diamond, who also works at Rosie's Den, said she's seen many accidents on the highway, but never one like that.
"I just keep praying, that's all you can do in a situation like this," she said.
The bus was still resting on its side late Friday, its front bumper torn in half and its rooftop emergency exit open. Several bodies covered in tarps or blankets also remained on the road.
The Shanghai tourism bureau has asked the Texas-based Galaxy Travel Agency to arrange for the five members who had not taken the trip to help identify the dead and injured, Xinhua said.
According to DPS, the bus belonged to D.W. Tours of San Gabriel, California. A recorded message on the company's phone line said the mailbox was full and that no messages could be left. The company did not respond to an e-mail from The Associated Press seeking comment.
Six people were taken to University Medical Center in Las Vegas, where one died. Spokesman Rick Plummer said two remained hospitalized in critical condition: the 61-year-old male bus driver and a woman whose age was unknown. The others were a 35-year-old woman, a 48-year-old man and an 8-year-old boy, all in serious condition.
The boy's parents joined him after being released from Arizona's Kingman Regional Medical Center, Kingman spokesman Ryan Kennedy said. A 41-year-old woman was in fair condition at Kingman today, and two other patients - a man in critical condition and a woman in serious condition - were taken to Sunrise Hospital in Las Vegas, Kennedy said.
More like this story