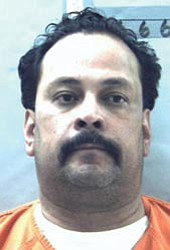 Originally Published: January 7, 2009 8:14 p.m.
Prescott police arrested Ferman Candelaria, 46, Monday on several felony charges of aggravated assault involving domestic violence after a New Year's Day assault on his girlfriend and her 14-year-old son at the couple's home on Iron Springs Road, according to a Prescott Police Department press release.
Lt. Ken Morley, PPD spokesman, said in the press release that the son's injury occurred while trying to defend his mother, Morley said.
Doctors at Yavapai Regional Medical Center treated and released both the mother and son.
Candelaria fled before police arrived. When police learned he was at his parent's home outside of Kingman, they called Mojave County Sheriff's Office deputies who picked Candelaria up and took him back to Prescott where he was booked into jail.