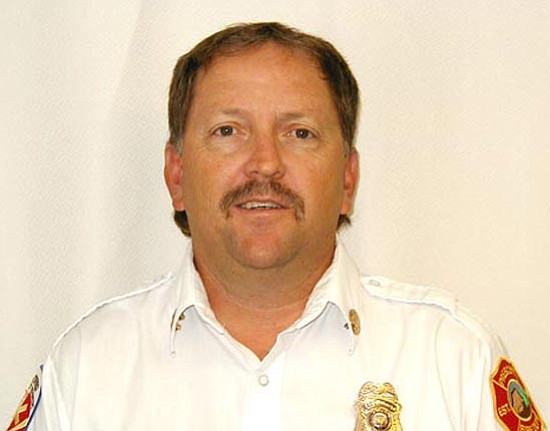 Originally Published: February 25, 2009 11:04 p.m.
Beloved former Prescott Fire Department Battalion Chief Brad Malm, a courageous, pioneering firefighter in this city for more than 30 years, died Tuesday after suffering complications from heart surgery in Mesa. He was 57.
Malm served 11 years as a battalion chief before retiring in November 2007.
A well-respected leader in the department, Malm specialized as a paramedic and fire-scene commander as well as an instructor and fire academy coordinator at Yavapai College. He led Prescott Fire's hazardous materials and technical rescue teams, and he oversaw the Aircraft Rescue Firefighting Program at the Prescott Airport.
After suffering a massive heart attack this past week, doctors admitted Malm into Banner Baywood Heart Hospital in Mesa for surgical treatment on Friday. However, the damage to Malm's heart was too difficult for surgeons to repair and he died a short time later.
Prescott Emergency Services Director and former Fire Chief Darrell Willis said that in the days leading up to Malm's passing anywhere from 10 to 20 firefighters stayed with him and his family around the clock at the hospital.
"Obviously he made a huge impact for the department, and he was one of those supervisors that people loved to work for," Willis said. "Firefighting was his life. He was a can-do person - no incident or no problem was too big that we couldn't get through it. He was just a great contributor to the overall public safety of Prescott."
Prescott Fire Battalion Chief Don Devendorf, who worked with Malm for more than 25 years, said he and Malm became friends 30 years ago while playing recreational league softball together.
Years ago Malm pitched for the fire department team and a tournament squad of U.S. Motors, which once operated a factory here. He also competed for another highly successful tournament team that won competitions across the state.
"Softball was a big deal for a lot of us through the late '70s and early '80s," Devendorf said. "We played tournaments all over the place."
Malm began his firefighting career with the Winslow Fire Department 31 years ago and moved to Prescott a short time later. Devendorf said Malm wound up representing what the "old-time Prescott Fire Department was."
"He came to work here at a time when it was cowboys and blue-collar workers, and there weren't that many calls," Devendorf said. "He was one of those guys that I looked up to. He was on the rescue truck."
Malm became one of the department's first paramedics who completed the original paramedic class offered in this area. Devendorf said Malm was a cool customer during emergencies. Behind the scenes, he was fiercely loyal to his firefighters.
Shortly after Malm started his lengthy career in Prescott, Devendorf said Malm was one of only seven advanced-life support providers working in northern Arizona. Today, a paramedic is assigned to every fire truck and ambulance.
"He was like a pioneer in advanced life support in Prescott," Devendorf said. "When he first came to work here, we were running first-aid calls. So he helped foster in an era of advanced life support for the people of this area."
In his brief retirement, Malm traveled extensively. He loved the outdoors and visiting with family. But he ultimately could not overcome a serious heart condition, a genetic problem that Devendorf said ran in his family.
Willis said Hampton Funeral Home, family members and fire department officials are coordinating a funeral for Malm in Prescott. Tentative plans may call for services at Watson Lake Park or The Heights Church, 2121 Larry Caldwell Drive.
Details for a March 7 service will get ironed out during a meeting on Friday, Devendorf added.
Survivors of Malm's include his two children, Orissa, 31, and Nate, 23, as well as four grandchildren.
Prescott Firefighter Charities is accepting donations for the Malm family at the Prescott Fire Administration Office, 2086 Willow Creek Road.
More like this story