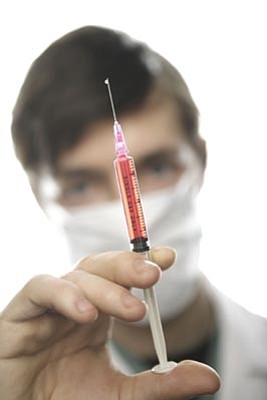 Originally Published: February 7, 2009 10:13 p.m.
Updated immunization recommendations for childhood flu vaccinations are included in the 2009 Childhood and Adolescent Immunization Schedules released on Dec. 31, 2008, by the Centers for Disease Control and Prevention (CDC), the American Academy of Pediatrics (AAP) and the American Academy of Family Physicians (AAFP).
The 2009 schedule calls for routine annual influenza vaccination for children age six months through 18 years. The previous recommendation was for vaccination of children from six months through 59 months of age. The recommendation increases the number of children recommended for vaccination by approximately 30 million.
"Vaccination is the best protection against influenza," said Dr. Anne Schuchat of the CDC. "This important update to the childhood immunization schedule helps us extend protection from influenza and its complications to all children between the ages of six months and 18 years, not just those at highest risk of complications from influenza."
It was recommended that healthcare providers vaccinate their child patients if they were able to provide the vaccine during the 2008 influenza season. Many providers were able to give the vaccine during the 2008-09 season because of a plentiful supply of vaccine. However, full implementation of the recommendation will not take effect until fall 2009, allowing time for providers to plan for vaccination of this large group of children.
Other changes to the childhood and adolescent schedule include a recommendation that children younger than nine years of age who are receiving influenza vaccine for the first time, or who were vaccinated for the first time during the previous season but only received one dose, should receive two doses of influenza vaccine at least four weeks apart.
Recommendations also include changes for vaccinating for rotavirus, a disease that causes diarrhea in young children. The first dose should be given by 15 weeks of age. Vaccinations should not be initiated in infants age 15 weeks or older. Administer the final dose in the series by age eight months. If the vaccine Rotarix is administered at ages two and four months, a dose at six months is not needed.
Catch-up vaccination with human papillomavirus (HPV), the leading cause of cervical cancer in women, is also clarified. Routine dosing intervals should be used for series catch-up (i.e., the second and third doses should be administered two and six months after the first dose). The minimum interval between the second and third doses is 12 weeks, and the third dose should be given at least 24 weeks after the first dose.
The full immunization schedule is available at www.cdc.gov/vaccines.
More like this story