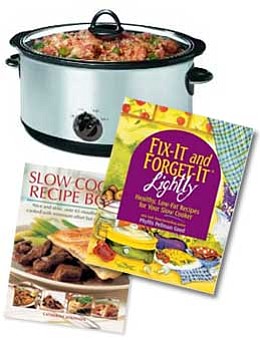 Originally Published: February 5, 2009 11:32 a.m.
Hello everyone. Do you succumb to "dashboard dining" because there isn't enough time to prepare a healthy and delicious dinner for you and your family? Are you raising you children in a "happy meal" world? Shame on you if you are! The excuse of not having enough time is no excuse to feed yourself garbage, and if you're feeding that same garbage to your own children, then double shame on you! Do I sound mad? You bet I am.
Ok, I'm done with my rant. Now I want to give some constructive advice. Cook dinner yourself. It's not that difficult once you get in the routine of planning ahead instead of waiting until the last minute to even think about dinner. Notice I said "plan ahead"? So much of reaching and then maintaining a healthy lifestyle is planning, especially when it comes to the food that you put into your body.
Step 6 of 10 steps to a healthier you, is when you focus more on dinner. Dinner should not be an afterthought. I realize that some of you have jobs that require you to be at work more than at home...cooking. One great way to overcome your lack of time or maybe even your lack of experience in the kitchen is a slow-cooker.
A slow-cooker is inexpensive and very easy to use. Recipes for a slow cooker usually require little prep work and all the cooking is done while you are doing something else. I found a great slow-cooker recipe book called "Fix-it & forget-it lightly. It's a great book, filled with hundreds of easy healthy recipes. You can also go on line and find a gazillion recipes.
I am actually making a chicken and adzuki bean stew in my slow cooker at this very moment. It took me 30 minutes to cut, dice, and mix it together, and now I can do other things like write this blog while the slow cooker is doing its thing. I love it!
Adding ingredients like cream of mushroom soup, onion soup mix, low calorie dressings, herbs and spices, can make a boring cut of meat into a delicious meal, then all you have to do is add some vegetables (yes, you need your veggies) and a small baked potato and dinner is done! There are some great bean, rice, and fish recipes for all you vegetarians. What's for dinner tonight?
You can email me at simplyfitt@gmail.com , post a note on my blog, or find me at facebook.com if you would like more advice or are interested in Personal Training. I'm always happy to hear from readers.
Recipe
(Taken from Men's Health.com)
Beef-and-Brew Stew
An old classic with less fat and calories
Servings:
8 people
1 1/4 pounds beef stew meat, cut into 1-inch cubes
1 large onion, chopped
1 clove garlic, minced
1 cup water
12 ounces your favorite beer
2 teaspoons Italian seasoning
½ cup frozen sliced mushrooms
1/4 cup chopped celery
1/2 cup sliced carrots
2 cups frozen peas
2 potatoes, peeled and cubed
Place in crock pot and cook on low to medium for 6 hours.
That's it!
More like this story