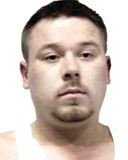 Originally Published: December 24, 2009 9:54 p.m.
Prescott Valley police arrested a man at 3:55 a.m. Tuesday on charges of first-degree criminal trespassing and felony criminal damage after he allegedly broke into and damaged a woman's home.
Officers booked Joshua Michael Havunen, 24, of Prescott Valley into the Camp Verde jail.
Police officers responded to a woman's call about an unknown man breaking items and damaging her home in the 6600 block of Kilkenny in Granville, said Sgt. Brandon Bonney, public information officer and crisis negotiations supervisor for the Prescott Valley Police Department.
When officers arrived, they saw a man jumping over the backyard fence and arrested him, Bonney said.
The 82-year-old woman told police she woke up to banging on her door and thought it might have been family, Bonney said. Then she saw a man standing in her bedroom, Bonney said. The woman told police the man went through the house damaging items and making holes in doors and walls, Bonney said.
She told police the man told her he lived there, although she's lived there for two years, Bonney said.
A Trauma Intervention Program volunteer stayed with the victim until the volunteer could reach the victim's family.
Havunen kicked at patrol car windows and threatened officers and their families, Bonney said.
Havunen refused to submit to any chemical tests of his breath, but appeared intoxicated and had an odor of alcoholic beverages emanating from him, Bonney said.
Havunen told police he took a cab to what he thought was his home, in the 6600 block of Kilkenny, Bonney said. When Havunen found the home empty, he told police he thought he might be in the wrong home so he entered the next house through the back door, Bonney said.
Officers believe Havunen used to live in the neighborhood, but has since moved into the Castle Canyon area, Bonney said.
More like this story