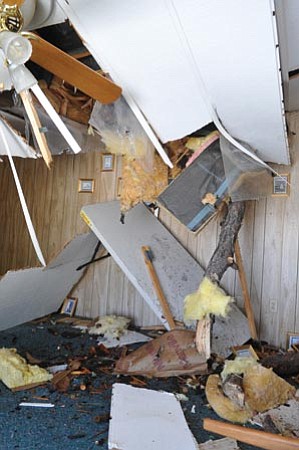 Originally Published: December 9, 2009 10:22 p.m.
Arizona Public Service crews have been working around the clock since Monday to restore electricity to about 5,000 customers in western Yavapai County after a mammoth storm swept through the region.
APS officials estimated 2,000 homes still were without power Wednesday afternoon, but they hoped to restore power to nearly all of them by tonight.
One exception is part of Crown King about 20 miles south of Prescott, where homes close to Towers Mountain might have to wait until the weekend.
A combination of hurricane-force wind gusts, wet sticky snow and fallen trees took out dozens of electricity lines throughout the region from Bagdad to Paulden to Cordes Junction to Congress, APS spokesperson Mike Johnsen said.
"I've been here since 1982 and I haven't seen a match-up like that," Johnsen said. "It was so widespread, that's what made it very difficult."
In flatter open areas such as Chino Valley, Paulden and Dewey, wind gusts took down poles without the help of trees.
"The poles virtually sheared off because of the winds," Johnsen said.
The National Weather Service reported wind gust speeds of 74 mph in Prescott, 77 mph in Crown King and 78 mph in Chino Valley.
APS has called in crews from the Verde Valley to help, because damage was less extensive in that part of the county. Snow generally didn't fall there.
On Wednesday APS hoped to restore power to parts of Chino Valley, Paulden, Dewey-Humboldt, Williamson Valley, the Mountain Club subdivision on the south side of Prescott and the Mt. Francis area southwest of Prescott by Wednesday night, along with power for radio station towers on top of Mingus Mountain.
APS expected to restore electricity to parts of Walker, Groom Creek, Ponderosa Park subdivision and Poland Junction sometime today.
People without power apparently have been staying home despite the bitter cold weather. The Red Cross has not received any calls for shelter, said Taura Livingston, emergency services supervisor for the Red Cross' Grand Canyon chapter.
"People just generally like to hunker down, but we have a facility on standby if they need it," Livingston said.
People who need shelter can call 800-842-7349 any time of the day or night.
Mandy Lang of Wilhoit was without power from about midnight Monday until 9:30 p.m. Tuesday and the powerful winds tore off part of the base skirting on her mobile home, but she didn't seek other shelter.
"I'm kind of out in the wilderness anyway, so I figured as long as the trailer was still there I'd hang on," Lang said. She used a kerosene stove for heat, candles and a hand-cranked flashlight for light, and a propane camp stove for cooking.
Falling trees took out many of the power lines, Johnsen said. Some live wires fell on roads but APS has no reports of anyone being hurt. APS crews deactivated the lines as quickly as possible.
One Prescott Unified School District special needs bus driver got a scare when she drove into a low-hanging power line near the intersection of Canyon and Arroyo in the Mountain Club subdivision on the south side of Prescott.
No children were in the bus, said Jim Cowan, PUSD transportation director.
A tree took down the power line.
"I've been here 60 years and that's about the highest volume of wind I've ever seen," said Cowan, who was driving around checking road conditions at 3 a.m. Tuesday during the height of the storm.
It appeared that emergency crews previously had used tape to block off the intersection where the bus hit the power line, but someone had removed the warning tape and left it beside the road before the bus driver came through, Cowan said.
The power line caught on the red light atop the bus, so the driver was trapped until emergency aid arrived, he said. He wasn't sure whether the power line was still hot.
The driver called 911 and stayed in the school bus until help arrived, Cowan said. The district teaches its drivers to keep everyone in a bus if an electric line is down nearby.
That's the right thing to do, Johnsen said.
"We consider all lines live and dangerous" when APS crews approach lines, he said.
APS crews faced numerous dangerous situations as they approached live wires during the peak of the storm Monday night and Tuesday morning.
"There was stuff falling down around them, and they did have to back out at times," Johnsen said. "It was a pretty dangerous situation initially."
More like this story