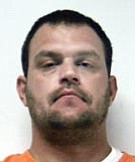 Originally Published: August 7, 2009 10 p.m.
Two suspects arrested after the home invasion and attempted murder of an elderly Chino Valley couple face a court date Sept. 8 that will determine where their cases are going.
Nichlos Sellers, 35, of Chino Valley and William Davis, 20, of Phoenix are scheduled to appear for a case management conference at 9:30 a.m. Sept. 8 before Judge Pro Tem Ralph Hess in Superior Court in Prescott.
During the conference, attorneys will meet with the judge to determine where the case is going, deadlines and other factors, said Penny Cramer, administrative assistant to the Yavapai County Attorney's Office. She said County Attorney Sheila Polk will try the defendants, with the court appointing private-sector attorneys John Napper and Dave Stoller of Prescott to represent Sellers and Davis, respectively.
Davis and Sellers faced their first court appearances this week since their arrests: Davis on Tuesday in the early disposition court in Prescott and Sellers Thursday in the early disposition court in Camp Verde.
A county grand jury indicted both men on multiple charges Wednesday stemming from their arrests after the July 28 incident at the home of Sellers' former in-laws in Chino Valley.
The charges include two counts apiece of conspiracy to commit first-degree murder, attempted first-degree murder and conspiracy to commit armed robbery, and three counts of attempted armed robbery, Cramer said.
The suspects allegedly broke into the home of the couple, shot the 73-year-old man in the head, stabbed the 68-year-old woman in the chest and stole their vehicle July 28.
The woman underwent treatment for her injuries at John C. Lincoln North Hospital in Phoenix and has been released.
However, the man remained in stable condition Friday morning at the hospital, Detective Tom Buvik of the Chino Valley Police Department said.
Chino Valley police have declined the release the names of the alleged victims, who oppose disclosure.
More like this story