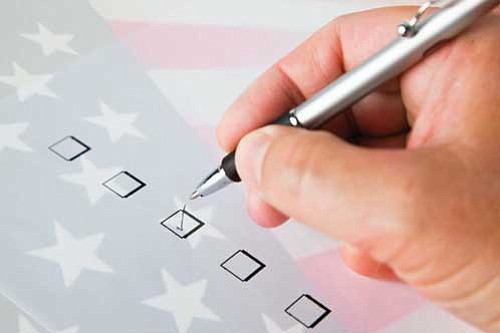 Originally Published: August 7, 2009 10:14 p.m.
PRESCOTT - After more than two months of campaign activity, the first round of the Prescott City Council election is coming to a close this weekend with the distribution of ballots for the Sept. 1 primary.
Yavapai County Registrar of Voters Karen McCracken said Thursday that she expected about half of the ballots for the Prescott Council race to go out in the mail on Friday.
That means that some Prescott voters could receive their ballots by as early as Saturday.
Others should receive ballots throughout the coming week. McCracken said another batch of ballots would go out on Monday, with the remainder likely going out Tuesday.
With 26,444 registered voters in Prescott, McCracken said the City Council race is the largest mail-in election that the county conducts. That number is up nearly 2,000 from the 24,600 ballots that went out in the 2007 city election.
This year's ballot will include a list of 11 City Council candidates - three for Prescott Mayor and eight for council seats.
The mayoral candidates include incumbent Jack Wilson and challengers Glenn Gooding and Marlin Kuykendall.
The council candidates include: incumbents Bob Bell and Robert Luzius, and challengers Robert Behnke, Steve Blair, John Hanna, Paul Katan, Tammy Linn and Michael Allen Peters.
Along with the candidate choices, voters will decide the fate of a 0.75-percent sales tax extension to pay for street improvements. The sales tax would begin in 2016 and would continue for 20 years - until 2036.
The 0.75-percent tax would be an extension of the existing 1-percent tax that currently goes to streets and open space acquisitions. That tax is set to expire in 2015.
Prescott has used mail-in ballots for its City Council elections since 2001. Voters regularly have several weeks to fill in their choices and return the ballots.
McCracken said a number of options are available to voters for returning their ballots.
"They can always drop them off here in the drop box outside of the county building," McCracken said of the County Administration building at 1015 Fair St.
Prescott City Hall at 201 S. Cortez St. is another option for voters who want to return their ballots in person.
In addition, McCracken said, voters can simply put their completed postage-paid ballots in the mail, although she cautions, "I would not mail them any later than Aug. 24" to ensure that the ballots arrive in time to be counted.
The official deadline for ballots is 7 p.m. on the Sept. 1 primary date, although McCracken noted that ballots that come in near the 7 p.m. cut-off time "won't be processed until the next day."
The county traditionally counts most of the ballots the night of the primary, but does not finalize the results until later because of late and questioned ballots.
Before they turn in or mail their ballots, McCracken emphasized, "Voters should make sure they sign their ballot affidavit. No one else can sign it for them."
To win a seat outright in the primary, candidates must receive a majority of the votes cast. The city will conduct a general election in November to decide any remaining council seats.