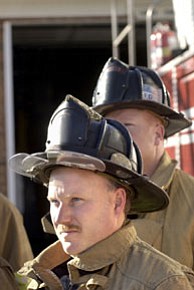 Originally Published: September 2, 2008 11:46 a.m.
A Black Canyon City Fire volunteer and another fire board member said in last week's board meeting that board member Stan Cothern told them he wants to take the Black Canyon department, which has both volunteer and paid staff, back to an all-volunteer status.
The discussion came after rumors circulated in Black Canyon City several weeks ago that Cothern had made the statements.
Cothern has denied saying he wants a volunteer department.
BCC volunteer firefighter Al Behren said in the meeting that Cothern called him on July 26 and asked him to sign a petition for his board campaign. During the call, Behren said, Cothern told him the board should remove the fire chief and all paid personnel and go back to an all-volunteer department.
"I heard it from him right from his face on the phone at my house," Behren said.
BCVFD board member George Fischer also said Cothern told him he wants to return the department to volunteer status.
"Mr. Stan, several months ago, did say to me that he thought we could save the people in Black Canyon City a lot of money if we went back to an all volunteer fire department, and I just let it go until some of this started coming up," Fischer said.
Cothern said he had spoken to Behren on the phone, but his purpose for calling was to obtain contact information for past fire chiefs. He denied asking Behren to sign his petition.
"I didn't call him for that anyway, I called him for his advice. At no time in that conversation, or before or since, have I said to anyone that I wanted to go back to an all-volunteer fire department. I guarantee you that I never made that comment in Black Canyon City or anywhere else.
"I do not want an all-volunteer fire department, I want to see this department continue to supply the services this community needs in a cost effective manner. You either believe me or you don't, but I did not nor have I ever advocated all-volunteer fire department. That's absurd and I never made that statement," he said.