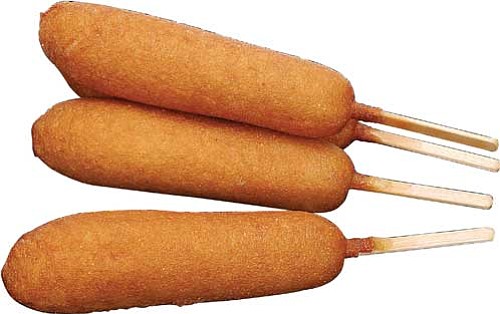 Originally Published: October 25, 2008 9:29 p.m.
Should the local school districts continue to serve hot dogs, corn dogs, pepperoni pizza and other processed meats in school cafeterias in the tri-cities area?
The food directors in Prescott Unified School District, Humboldt Unified School District and Chino Valley Unified School District feel they should. However, the Cancer Project, a national cancer education organization, wants them out of school cafeterias, because these products increase the risk of cancer in adulthood.
Bob Toomer, PUSD's food service director, said taking three staple items off their menu would create a hardship.
He believes kids' risk of choking on hot dogs is a bigger concern than getting cancer from them. "(And) I've never had a choking incident in 20 years," he said.
Toomer said PUSD uses turkey dogs because they have a lower fat content and are cheaper.
Currently, he said, they serve hot dogs once a month in PUSD schools and corn dogs at the high school and middle schools.
Rick Littell, HUSD's director of food and nutrition, said they serve turkey dogs and corn dogs in the elementary schools once a month. High school students can buy corn dogs from the a la carte menu. These corn dogs, he said, have five grams of fiber.
Pizza, he said, is one of five entrees offered daily at all of HUSD's schools.
Beth Williams, CVUSD's food service director, said they serve chicken and turkey hot dogs to students in the district's schools once a month.
They also serve turkey pepperoni pizza, which she said is a "much healthier version."
The Cancer Project's petition asks the USDA to encourage schools to include alternatives to processed meat products in their menus.
All three of the local school districts food directors said they are already doing that.
Littell said HUSD offers its students a chef's salad daily and access to a fresh fruit bar and canned fruit on a daily basis.
Toomer said they have started a new program at Prescott High School following the remodeling of the cafeteria. Since Oct. 13, PHS students have five serving lines. The first line offers four pizzas, the second offers four Mexican dishes, the third one offers six deli items, the fourth offers items like hamburgers and chicken nuggets, and the fifth one offers salads.
"We're making every effort to make it healthier for the kids," he said.
Williams said she is trying to introduce a large variety of foods, like casseroles and fish, to the elementary school students in the CVUSD.
She said, "Our school lunches are one of the healthiest meals students get. We are very conscious of our children's nutrition and are very proud of what we serve."
At CVUSD, Williams said, staff tests and tastes all the food they make for the children to make sure they will like it.
She said they started out with a salad bar at Chino Valley High School and now offer it at all of the schools. "We try to introduce the students to as many fruits, like kiwi, as possible," Williams said.
More like this story