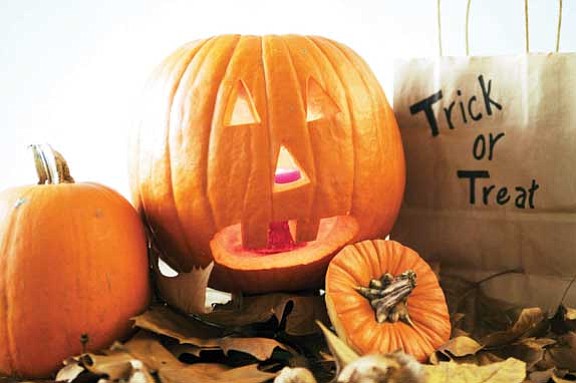 Originally Published: October 21, 2008 9:58 p.m.
Plenty of ghouls are offering fun Halloween-related events for the public this year.
Following is a list of events that sponsors have submitted to The Daily Courier. To add an event to this list, call Joanna Dodder at 445-3333, ext. 2035, or e-mail jdodder@prescottaz.com.
• Friday and Saturday, Oct. 24-25: Haunted Hayrides at Arcosanti.
This 45-minute zombie experience includes a hayride and walking tour through ancient Arcology ruins, campfire horrors and associated mayhem.
Rides leave hourly between 7 and 10 p.m. from the Arcosanti bakery, where people can buy refreshments.
Tickets are $11 for adults, $8 for students with ID, and $5 for ages 13 and younger.
For a sneak preview, go to YouTube and type in the keyword "Arcology."
Arcosanti is next to Cordes Lakes near the intersection of Interstate 17 and Highway 69.
• Saturday, Oct. 25: Prescott Ghost Talk at the Prescott Fine Arts Association Theatre, 208 N. Marina St.
After a brief presentation by the Macbeth Witches in the PFAA courtyard, guests will move into the theatre to experience a hair-raising series of presentations that combine local folklore and ghost stories with a suspenseful old-time radio show by the New Mercury Theatre Players.
The four showings occur at 6, 7, 8 and 9 p.m.
After the show, guests can partake of refreshments and view an exhibit in the lower art gallery.
Tickets are $10 and are available by calling the West Yavapai Guidance Clinic Foundation at 445-5211, ext. 2770, or via the Internet at www.wygc.org. The show benefits PFAA and the clinic.
• Wednesday, Oct. 29, to Friday, Oct. 31: Chino Valley Haunted Swamp at 6:30-9 p.m. at aquatic center pool in Community Center Park, 1615 N. Road 1 East.
Spooky pirates, boats, ghost town and black cave maze entertain children ages 12 and younger.
• Friday, Oct. 31: Chino Valley Trick-or-Treat Party at 6-9 p.m. at the Community Center Park, 1615 N. Road 1 East.
Features trick-or-treating, haunted swamp, a haunted hayride starting at 7 p.m. and a small carnival. Costume contests for kids, adults and pets.
• Friday, Oct. 31: Boo at the Zoo, Heritage Park Zoo, 1403 Heritage Park Road off North Willow Creek Road in Prescott.
Come trick-or-treat from 6-9:30 p.m. with the wild animals.
Bring flashlights for late-night viewing of the animals. Costumes are welcome.
Cost is $3 for members, $5 for non-members.
New zoo features include the Kiwanis Kids Korner, a fully enclosed area where visitors can see animals up close; and the Tamarind Trio, three cute little female cotton-top primates.
• Friday, Oct. 31: Cave of Cries haunted house at the Drop-Inn Teen Center, 1718 Willow Creek Road, on the west side of the road just north of Rosser St. in Prescott.
Events take place from 7 to 9:30 p.m. and include the haunted house as well as live bands, food, games, and a costume contest for teens.
• Friday, Oct. 31: Harvest Party at Calvary Chapel of Prescott, 2313 E. Highway 69.
Free activities 5:30 to 7:30 p.m. include petting zoo, circus games, pie in the face, jump castle, and prizes for every game. Food includes candy, popcorn, cotton candy, hot dogs, chips, soda and circus peanuts. Candy donations are welcome.
The theme is "The Circus is Coming," and the chapel encourages everyone to dress in circus costumes.