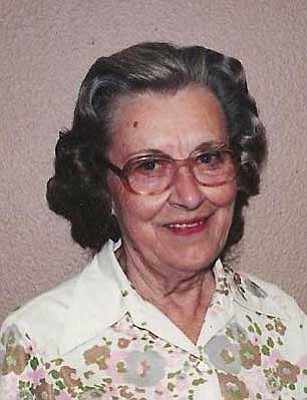 Originally Published: October 11, 2008 10:24 p.m.
Mrs. Ruth Terrin, 81, died peacefully at home in Prescott of natural causes on Oct. 9, 2008.
Mrs. Terrin was born in Prescott on March 9, 1927. She graduated from Prescott High School and immediately went to work for the First National Bank of Arizona, where she worked for the next 42 years. While at the bank, she met and married the love of her life, Edward Terrin.
Her passion in life was her family. She took extreme pride in her children and grandchildren and great-grandchildren. When she was not caring for the needs of her family, she enjoyed all the friendships made through her bank teller window. "Ruthie" was kind and considerate, always doing for others before herself. She will be greatly missed by all.
Ruth is survived by her sons, John of Phoenix and Michael (Charlene) of Flagstaff; and her loving daughter Toni Cunningham (Kevin) of Chino Valley; six grandchildren and two great-grandchildren; and many others.
She was preceded in death by her parents; her sister Mildred; and her husband Edward.
Condolences may be sent to the family at hamptonfuneralhome.com. The family suggests memorials be made to Hospice Family Care, 100 E. Sheldon St., Prescott, AZ 86301.
There will be a gathering of friends and time of sharing from 6 to 7 p.m. Wednesday, Oct. 15, 2008, at the Hampton Funeral Home, 240 S. Cortez St., Prescott, Ariz.
Information provided by survivors.
More like this story