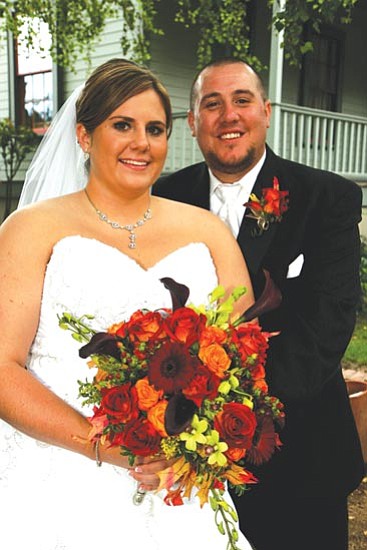 Originally Published: November 22, 2008 10:02 p.m.
Amanda Davis and Roy Madrid were married at 2 p.m. Sept. 27, 2008, at Sacred Heart Church in Prescott, Ariz. Father Richard Woznyiack officiated.
The bride is the daughter of Tina Corbett and Rick and Cindy Davis, all of Prescott. She has a B.S. in retailing and consumer science from the University of Arizona and is a buyer at Wal-Mart Stores U.S.
The groom is the son of Roy and Ann Madrid of Prescott, Ariz. He has a degree in fire science from Yavapai College.
The bride wore a white strapless Morilee gown with beading throughout. Her maid of honor was Kristin Albert of Tucson, Ariz., and bridesmaids were Bailey Davis of Prescott, Ellen Nimmo of Centertown, Mo., and Lori Price of Bentonville, Ark.
The best man was Chris Leyva of Prescott Valley, Ariz. Groomsmen were Isaac Madrid, Roy Madrid both of Prescott and Josh Reed of Rogers, Ark.
The couple honeymooned in Negril, Jamaica. They will reside in Bella Vista, Ark.