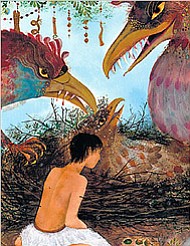 Originally Published: March 25, 2008 8:59 p.m.
World Folktales & Fables Week, April 2-8, offers an opportunity to revisit old favorites, find new tales to enjoy, and explore new versions of classic stories. Folktales include many types of traditional narratives illustrating the history, norms and beliefs of a particular culture. Beneath the trappings of specific countries and social groups, you will find that folktales exhibit an array of universal themes, reinforcing the underlying unity of humans everywhere.
"The Golem: The Story of a Legend" as told by Elie Weisel. 1983.
The Golem is an ancient tale of a man made of clay or mud. The story comes from Prague. In this retelling, the Golem is not fearsome creature, but he is rather the kindly giant who is there to save his people from traps accusing them of wrongdoing that have been set by the evil duke. The good Rabbi sends the Golem to do this by finding the supposed victim and exposing the lie, or by outsmarting the culprit. When he is not needed the Golem sleeps by the hearth, or sits quietly in the study room. - Fran Garner
"He, She and It" by Marge Piercy. 1991.
In this novel of the future, Piercy weaves the story of Rabbi Loew and the Golem of Prague into the story of Yod, a modern golem created to defend
Tikva, a free enclave in a ravaged 21st-century North America ruled by giant corporate conglomerates.
Considered a piece of equipment by his creator, Yod must be socialized to appear in the community and do his job.
Shira Shipman, brilliant and troubled, has escaped from her corporation and come to Tikva to undertake this task.
Enjoy this fast-paced adventure as you consider what makes a human being human. - Sharon Seymour
"In Fond Remembrance of Me" by Howard Norman. 2005.
In the fall of 1977, Norman was sent to Manitoba to translate into English the
"Noah stories" of Mark Nuqac, an Inuit elder.
While there he met Helen Tanizaki, who was sent to translate the stories into Japanese.
Norman deftly combines a memoir of his friendship with the older, linguistically talented and dying Helen and the Noah tales. Norman is painfully aware of being outclassed by Helen and barely tolerated by Nuqac.
The 11 variations of Noah and the Ark are funny. Picture Noah stuck in the winter ice of Hudson Bay refusing to give up an animal for food. - Anna Smith
"Lugalbanda: The Boy Who Got Caught Up in a War" by Kathy Henderson. 2006.
First recorded on clay tablets more than 4,000 years ago, the story of Sumerian prince Lugalbanda is beautifully retold in this lush illustrated book for young readers. Smaller and weaker than his seven brothers, Lugalbanda falls ill as they march toward a senseless war with a neighboring kingdom. Left behind and not expected to live, he recovers, befriends a monstrous bird, and ultimately restores peace to the land. This ancient tale from the country now known as Iraq is timely and highly recommended. - Amadee Ricketts
The Library Ladies are on the staff of Prescott Public Library.