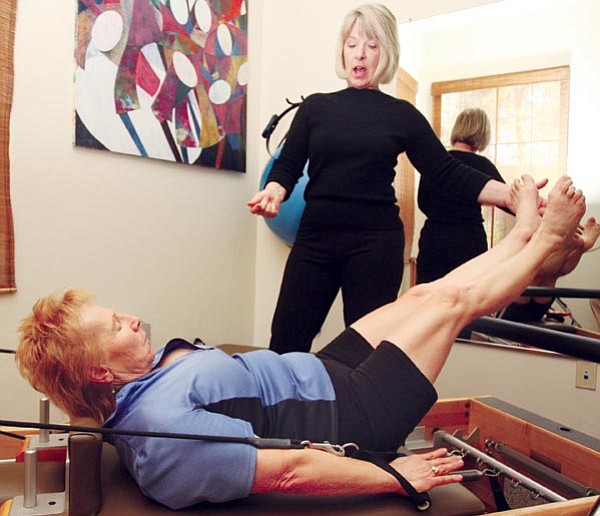 Originally Published: June 15, 2008 9:04 p.m.
Trading the fast-paced floor of the Chicago Board of Trade, the world's oldest futures and options exchange, for a Pilates studio in the pines of Prescott was an easy decision for Zenda Sergo.
"I had been at the Board of Trade for a long time, and I was done. It was time," Sergo said.
So she took a year off and trained in Pilates - a conditioning program that concentrates on strengthening and stabilizing the body's core muscles around the spine and on proper breathing. Pilates - named after Joseph Pilates (pronounced Pi-lah-teez) who came up with the method - is a way of elongating muscles instead of bulking them up, Sergo explained.
"Basically it's about feeling better in your bones," she added.
Prescott is known for two kinds of people: wealthy retirees and life-swappers - people who move here and reinvent themselves. The wide open skies and vast rolling hills seem to loosen the limits people place on themselves so that almost anything seems possible.
Sergo - who, as a broker in financial futures, dealt with very large amounts of money - came to Prescott from Chicago in 2004 after she sold her seat on the Chicago Board of Trade.
There she had been a high-energy boss with as many as five employees working for her at a time.
"Oh, it was wonder-ful," Sergo said, a grin spreading across her face. "I loved it."
But tiny aches and pains began creeping up on her. She knew she was out of shape, so she signed up for Pilates classes. It wasn't too long before her body started feeling better.
"I felt as good as I did when I was in my twenties," Sergo said.
She'd wanted to strike out in a new direction, so she thought, "OK, where's the common thread in my life?"
She decided her threads were organization, creativity and movement.
"So I chose (Pilates and graphic design) and knew they would be portable."
She took a year off to train in Pilates and graphic design, all the while thinking about where she would live next.
A visit to Prescott clinched it.
When she told her son Josh, who is also a broker at the Chicago Board of Trade, of her plans, all he said was, "Mom, I always knew you'd be moving west," Sergo said.
And off she went.
She didn't think of it as leaving anything behind: "I was taking myself forward."
Besides Pilates - which she learned from Mary Bowen and Michelle Larson, two well-known Pilates instructors - Sergo also tutors people on how to use computers and uses her graphic design skills to help people create business cards and websites.
In fact, she created the website - www.prescottpilates.com - for Prescott Pilates Studio, where she works.
Sergo said most people she meets know what Pilates is, they just don't realize there are Pilates studios in Prescott.
Pilates, Sergo said, is a concept of movement, not a series of exercises.
"It's as appropriate for a 24-year-old body as it is for an 84-year-old body," she said.
Robbie Nicol, one of her students, says Sergo is a great motivator who makes her classes fun.
"It's also amazing to me how patient she is," Nicol said. "I'm like the original Pilates klutz."
Contact the reporter at tshultz@prescottaz.com
More like this story