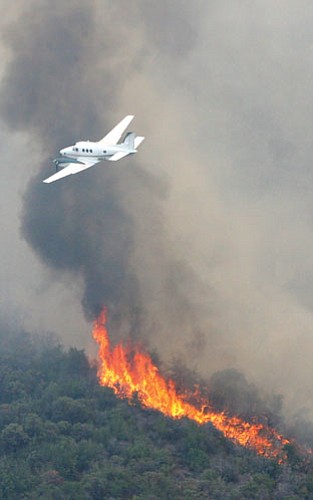 Originally Published: July 8, 2008 3:44 p.m.
The Prescott, Coconino and Kaibab national forests have lifted their burn restrictions effective Friday.
The move comes on the heels of a rough week last week for firefighters, as they fought the nearly 10,000 acre Lane 2 Fire that threatened Crown King and Horse Thief Basin. By Monday, firefighters had 95 percent containment of the fire, as rains soaked much of the county.
Elevated fire danger in some areas should be isolated because of the presence of the monsoon.
Using the old standard of three consecutive days of high dew points for Phoenix, the monsoon started July 3, four days earlier than normal.
Starting this year, the National Weather Service set the monsoon season from June 15 through Sept. 30.
The NWS is forecasting a 20-30 percent chance of thunderstorms in the Yavapai County Mountains through Monday.
Radar showed parts of the area received 1-3 inches of rain in a few hours Sunday.
With the monsoon here many washes and low water crossings would be running.
"Please do not drive through flooded washes and watch your children playing around water," one fire official said.
National forest representatives ask people to be extremely careful with fire and to the ashtrays in their vehicles instead of throwing cigarette butts out the window.
More like this story