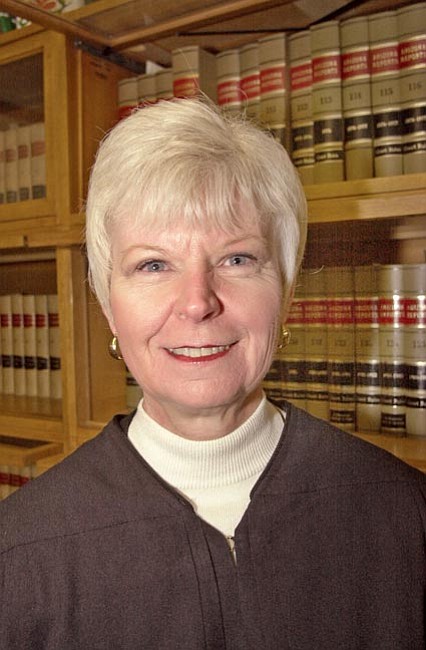 Originally Published: January 24, 2008 8:34 p.m.
PRESCOTT - After 18 years on the bench, Yavapai County Superior Court Division 3 Judge Janis Sterling is retiring on March 14.
Sterling recently married and she is looking forward to an "unstructured life with her husband exploring Arizona and the world."
Sterling was the first female attorney in private practice in Yavapai County and the first woman to win election to the Superior Court in northern Arizona.
Sterling served as the Yavapai County Superior Court Judge Pro Tem/Court Commissioner from mid-1987 to 1991. Voters elected Sterling in 1994 after a highly contested race. They re-elected her in 1998 in a second contested race. She ran unopposed in 2002 and 2006.
During her judicial tenure, she has handled every type of case that comes before the Superior Court, including felony criminal, civil, domestic relations, probate, mental health and juvenile matters. She has served in all superior court venues in Yavapai County including the Verde Valley Judicial District.
Sterling is the longest-serving Superior Court Judge currently on the bench in Yavapai County.
She said when she first took the bench, the Superior Court had three judges. Today, it has seven elected judges, three pro-tems and two juvenile referees.
Sterling will continue her heavy criminal trial case-load until her retirement.
"We appreciate Judge Sterling's service and we are sorry she is leaving. However, we recognize she has many opportunities in her life and we are happy for her," Presiding Judge Robert Brutinel said.
Sterling said the thought of retirement is "exciting. This has been a long and rewarding path. I enjoy what I am doing, but I think I will enjoy being with my husband more."
Sterling is an Arizona native who grew up and went to school in Phoenix. Before law school, Sterling spent several years in southern California as an insurance broker and employee benefits analyst.
She enjoys golfing, hiking and bike riding.
Gov. Janet Napolitano now must appoint a new judge to the Division 3 bench.
The governor's office will accept applications until 5 p.m. Feb. 4, and officials will announce a list of applicants on or near Feb. 5. The governor's office will accept public comments about the applicants until Feb. 15.
Napolitano will make a final selection by early March.
Anyone interested in applying for the position of Division 3 Superior Court Judge may download an application and instructions at www.azgovernor.gov.
More like this story