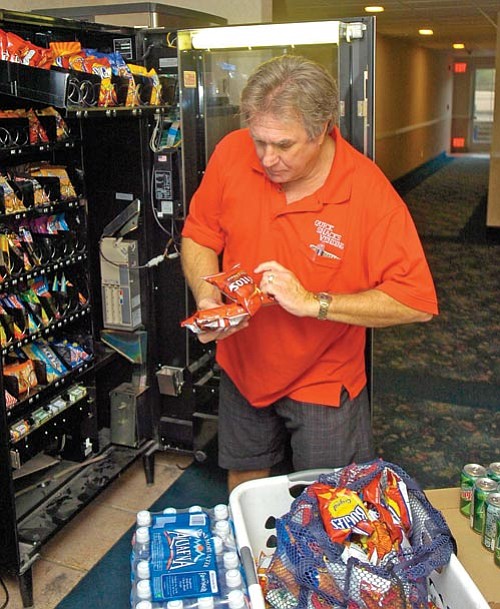 Originally Published: January 4, 2008 7:54 p.m.
People see them everywhere, and they're easy to take for granted, but for Daniel Hersum, vending machines are a way of life.
"It'll be my fourth year in the vending machine business in April," said Hersum, owner of Quick Snacks, a Prescott-based vending machine provider. "When I bought the company we had 60 machines at 30 locations, and we've grown from there. It's all my equipment, owned. I put it in, maintain the machine, and collect the money."
Hersum's company provides a broad array of machines, including soft drinks, snacks, sandwiches and candy. He arranges with business locations for the placement of the machines, usually "as a service," though occasionally some businesses will request a small fee.
"The fact is, these machines' power draw is nothing. A soda machine doesn't use as much as a refrigerator, and a snack machine is like powering a light bulb," said Hersum. "I consider it a service, since people trapped in the office all day need that little something to get through the day, sometimes."
Because of that, Hersum said, office complexes tend to be the more profitable locations for vending machines.
"Virtually all of the machines are electronic these days, where they used to be mechanical," Hersum said, citing the "electronic eyes" that read coins and the relatively new inputs for dollar bills in vending machines. "The downside of electronic machines is that when something goes wrong, it's much more costly to fix."
Hersum said that vending machines usually run between $2,000 and $4,000, depending on the type and quality of the machine, with some specialty snack machines worth as much as $6,000.
"The installation is heavy work, usually a two-man job requiring specialized moving equipment, since the machines weigh over 600 or 700 pounds," Hersum said. "I usually go in once a week for maintenance, to reload product and collect the money from my machines. With some of the busier ones, I've gone as much as three times per week; some people really like their snacks."
Hersum said that maintaining his machines is difficult because of vandalism and damage from attempts to "cheat" the machine.
"People will sometimes try to knock over a machine in the hopes of getting some free pop," Hersum said. "I had one location where I had to screw it to the wall to keep people from doing that. I've never actually seen one fall on someone, but it's entirely possible it could happen."
Because of that risk, Hersum said it is vital for businesses to ensure that their vending machine providers are licensed and insured.
Vending machines take a lot of abuse, and Hersum said he's seen nearly every sort imaginable.
"You find some pretty crazy stuff that people try to stick in vending machines, sometimes pennies wrapped in aluminum foil, another time a guy was going at the coin slot with a knife - don't know what he hoped to accomplish," Hersum said. "The worst was the one time when a guy worked all night to get the money out of a soda machine, going at the thing with a crowbar. End of the night, he's done $600 damage, and hasn't gotten to the money. Even if he had, it only had two bucks in it at the time."
Any methods of "fooling" vending machines that worked in the past are now obsolete, Hersum said, and will result only in a damaged machine, not free goods, the majority of the time.
"Usually if a machine doesn't work, 90 percent of the time it's as a result of impatience," Hersum advised. "Put in the coins, and give the machine a second to process that. You rush it, that's when it ends up eating your money. Take it slow, and you're more likely to get what you want."
More like this story