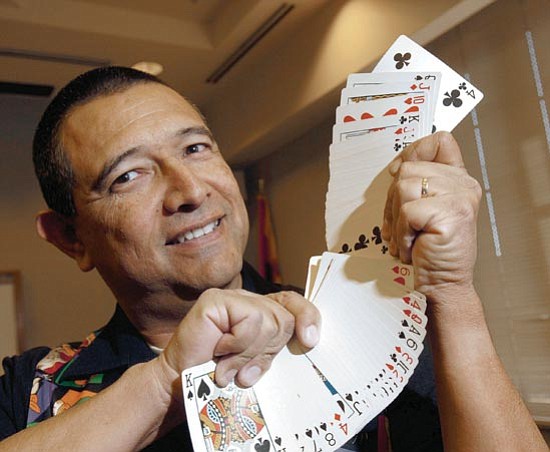 Originally Published: January 1, 2008 8:09 p.m.
Eddie Siller is a magic man.
He may be a Prescott police officer, but his real love is seeing kids' faces light up when he does his magic tricks. He's been doing them since he was 12 and saw a neighbor make a coin disappear.
"He wouldn't tell me how he did it," Siller said of that long-ago neighbor.
Now Siller makes coins disappear, and he won't say how, either.
It's the magician's code never to reveal how they do their tricks, Siller explains. Oh sure, nowadays online websites reveal all sorts of secrets. But the majority of magicians stay mum about it all.
A way to learn exists, however, and it's right here in the Prescott area. It's a club called the International Brotherhood of Magicians Ring 356. It's for would-be magicians, ventriloquists, clowns or anybody in the performing arts, said Siller, who is president of the organization.
Ring 356 meets from 6:30 to 8:30 p.m. on the fourth Tuesday of every month in Room 222 of the Prescott Valley Civic Center. The club is about three years old and has about 23 members, although only a handful of them attend the meetings regularly.
Members include retired professional magicians, several teenagers and even one 10-year-old girl.
Each meeting starts with Siller giving a run-down of "magic happenings" throughout the state. He notes who is performing where, what seminars on magic are available that month and anything else concerning magic that's happening in Arizona that he thinks club members might be interested in.
After that, the group discusses the tricks each individual is working on. That's where the serious learning comes in. Members help one another perfect the tricks and get the "patter" each magician uses in his or her act down correctly. It's a skill just about anyone with determination can learn. Club members even help one another with music selections for their acts - Siller likes to use a German group with a heavy "techno" sound.
"The two hours go by fairly quickly when you're working on pieces," Siller said.
He noted that other IBM clubs tend to be bigger than Prescott's. "So you don't get a lot of feedback (at those)," Siller said.
Because the Prescott club is so small, "you tend to become family," he added. And learn a lot.
Retiree Alan Harrington lives in Dewey and is vice president of Prescott's Ring 356. As a youngster, he loved watching magicians perform and even learned a few card tricks he would perform for friends and relatives.
He said Ring 356 is a great place for beginners to learn how to do magic and to exchange ideas.
Being a magician requires enormous self-discipline, he explained, because although the tricks look easy, many of them are extremely difficult.
He said he still performs some magic, "just to see the amazement on (people's) faces."
He adds, "I've found out some people ... could care less, and other people are so amazed by it, they could watch it for hours."
Learning magic helps young people especially gain confidence.
He urged anyone who thinks they might like to try magic to attend a meeting.
"Everybody's friendly and glad to see each other," Harrington said.
Contact the reporter at tshultz@prescottaz.com