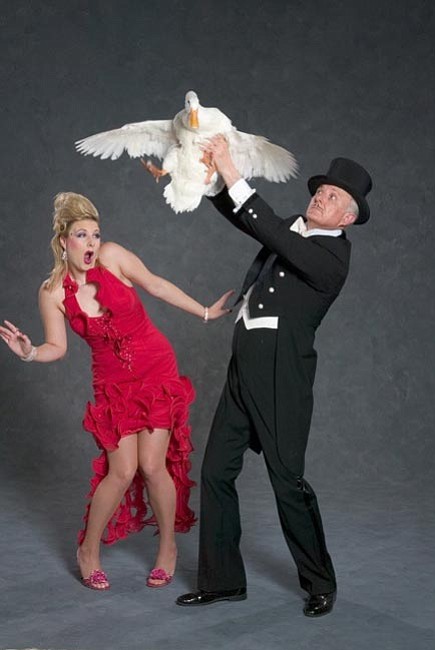 Originally Published: February 21, 2008 7:29 p.m.
The mystical "It's Magic" show hits the road again for the 52nd year, bringing a new flock of tricks to Yavapai College Performance Hall at 7:30 p.m. Saturday, March 1.
The live stage show features performances by top professional musicians, and represents a variety of magic art.
Milt Larsen, creator of The Magic Castle, a club for magicians and a Hollywood attraction, produces the show.
"It's Magic" features the work of Goldfinger & Dove, Michael Finney, Eric Buss, Les Arnold & Dazzle, Danny Cole and Ray Pierce & Company.
Goldfinger & Dove deliver a dynamic combination of music, dance and illusion that has amused audiences from Japan and Europe to Las Vegas, and twice has earned Stage Magicians of the Year honors from the Academy of Magic Arts.
Michael Finney mixes comedy with magic. His previous appearances include Fox's "Comic Strip Live," HBO's "Comic on the Road," "Sunday Comics with Lenny Clark," Bud Friedman's "Evening at the Improv," two NBC magic specials, "The Magic Hour" with Magic Johnson, and two appearances on "The George Lopez Show."
Eric Buss has earned the moniker of "The Comedy Imaginator" with a high-energy comedy act combining pogo sticks, wigs, frozen turkeys and dancing licorice into a non-stop ride of mischief of magical gadgetry.
Les Arnold presents grand illusions with audience participation with the help of his flamboyant, over-caffeinated assistant, Dazzle.
Danny Cole has studied magic since the age of 10, and has twice been named Stage Magician of the Year by the membership of The Magic Castle.
Illusionist Ray Pierce's background in acting, dance and singing provides the foundation for a style of magic based on theatrical experience.
Tickets are $30, $25 for students and $25 each for parties of four or more, and are available online at www.tickets.com, or at the YC Community Events Ticket Office (928-776-2000) in the lobby of YC Performance Hall Monday through Friday, 10 a.m. to 4 p.m.