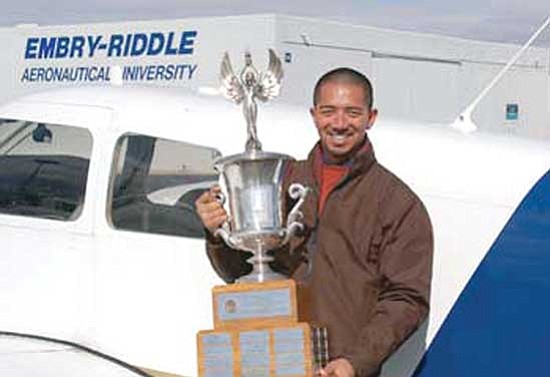 Originally Published: December 28, 2008 10:23 p.m.
PRESCOTT - Embry-Riddle Aeronautical University graduate and flight instructor Solomon "Sol" Kaawaloa is the Federal Aviation Administration's "Flight Instructor of the Year."
The Federal Aviation Administration Flight Standards District Office in Scottsdale chooses one individual in the district for the honor annually.
Kaawaloa is from Pahoa, Hawaii. He began as a student at ERAU in 1995 after graduating from Kamehameha High School. He graduated with a degree in Aeronautical Science in 1999. After graduation, Kaawaloa took a one-year sabbatical to coach volleyball and be a flight attendant.
He returned to ERAU in 2000 to begin his career as a flight instructor, and is teaching the next generation of pilots.
Kaawaloa is "committed to instructing" and his goal is to create and inspire the best aviators. He hopes one day to fly for an air medical evacuation business, but has remained selective about choosing an employer. He is keeping his focus on teaching while holding out for an air evacuation position to become available in the local area.
Kaawaloa and his wife Patricia, a registered nurse, will always call Prescott home.
The coveted Flight Instructor or the Year Award has a tough selection process. It begins when flight-training managers across Arizona nominate instructors and submit them to the local Flight Standards Office. There, judges endlessly sift through nominees until deciding on the most deserving flight instructor.
An ERAU spokesman said the school is proud that Kaawaloa came out on top of a group of about 50 of Arizona's best flight instructors.