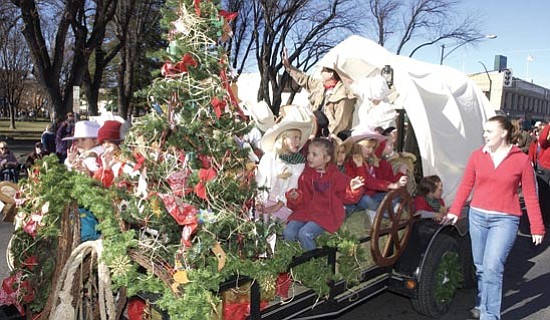 Originally Published: December 5, 2008 10:17 p.m.
Parades bring out creativity in schools, businesses, churches and organizations that enter floats and draw throngs of gawking spectators.
Some parade entrants prepare dazzling displays, while others continue years-old traditions or even pare down what they have done in the past.
Paring down, or staying the course, explains why the City of Prescott has not entered floats in the 26th annual Prescott Downtown Christmas Parade Saturday beginning at 1 p.m., according to Patti Crouse, executive assistant to the City Council and city manager. Instead, council members ride in an antique fire truck.
"We haven't changed it," said Crouse, who has organized parade entries for eight years and noted the city has participated for at least 20 years.
"We don't talk about (entering a float)," she continued. "However, in our current economic times we don't want to take that on. We prefer to spend our taxpayer dollars more responsibly."
Crouse said another challenge is recruiting volunteers to work on a float.
"People don't have as much free time," she said. "If we were high school students, we would have more free time for working on floats."
Floats used to be "a lot more elaborate," said Bobbie Rohrer, a hostess who has organized the floats for the Fork in the Road restaurants - Murphy's, the Gurley Street Grill and The Office - for 13 years. "We used to have a big truck and all that. And now we use a trailer for our float."
The restaurants and the city government only enter the Christmas Parade. By contrast, the Potter's House and Willow Hills Baptist churches in Prescott entered floats in the Holiday Lights Parade in downtown Prescott this past Saturday evening and the Holiday Night Light Parade in Prescott Valley Friday.
The Prescott Downtown Christmas Parade, the largest one in the tri-city area, will have 103 entries, said Harold Viehweg, finance director and parade organizer for the Prescott Chamber of Commerce.
Potter's House, which has participated in the Christmas Parade for about 20 years, follows the themes of the Christmas Parade, said Bill Desjadon, a church usher who is in charge of floats. This year's theme is "Home for Christmas."
"When we started out, we just used a small trailer behind the pickup," said Desjadon, who has overseen floats for several years. "We (now) have a 30-foot gooseneck trailer."
The trailer has a generator for a sound system, Desjadon said.
"One year we built a turntable, and we have used different things on a turntable," he said. "One year we had an eagle. With the turntable we had the wings so they could fly up and down. We used it for an animation-type thing."
Desjadon recalled designing and building a gazebo atop the turntable six or seven years ago in which people inside the gazebo spun around. A few years ago, the church used a video projector to create an image of a Christmas package.
He said the church used a black light for a puppet a few years ago when the Prescott Parade theme was "Christmas on the Moon."
Willow Hills enters old-fashioned floats that keep with the themes, said Phil Brooks, who has organized floats for about seven years.
"We are just staying with the basics," he said. "We are building frames together."
Brooks said his church does not reuse wood or other materials because the floats are simple and cost only a few hundred dollars to make.
The restaurants reuse materials and props whenever possible to prevent waste, save money and be environmentally sensitive, Rohrer said.
"Now we have an artificial tree that we have been using three or four years," Rohrer remarked, adding, "it is just easier instead of having to buy a tree every year."
Contact the reporter at khedler@prescottaz.com