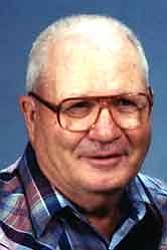 Originally Published: August 16, 2008 9:14 p.m.
Dale Franklin Mathern died on Aug. 13, 2008, in Camp Verde, Ariz. Born on Feb. 18, 1924, in Toledo, Iowa, he was the son of Joseph and Daisy (Dixon) Mathern.
Dale is survived by his loving wife Mildred; daughters Carol (John) Sanders, Kathryn and Beth Mathern; sons Michael (Betty) Mathern, Larry (Patty) Mathern, Mark (Earlene) Mathern and Christopher (Kimberley) Mathern; and numerous grandchildren and great-grandchildren. His is preceded in death by his daughter Barbara Mathern.
A funeral mass will take place at 11 a.m. Monday, Aug. 18, 2008, at St. Joseph Catholic Church, Highway 69, Mayer, Ariz.
Arizona Wakelin Bradshaw Chapel assisted the family with final arrangements. Visit and sign Dale's guestbook at www.ruffnerwakelin.com.
Information provided by survivors.
More like this story