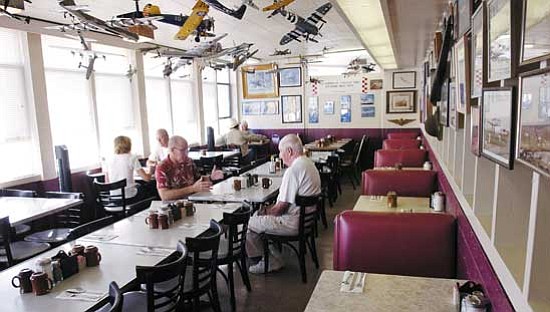 Originally Published: August 16, 2008 9:02 p.m.
PRESCOTT - Joe Vogel's poor eyesight prevented him from pursuing a career in aviation.
But Vogel found a way to get his daily lift through the chats he has with people at Susie's Skyway Restaurant at the Prescott Airport.
"You can walk in as a stranger and strike up a conversation with a pilot," he said. "It's that camaraderie that you have."
Pilot Bob Way sat across the table from Vogel early Friday morning, agreeing with him.
"There's not that many good restaurants you can fly to," he said. "This is one of them."
And that, according to Susie Sullivan, is part of the restaurant's magic.
"This restaurant is different than anything you'll ever find," she said. "We just have such wonderful customers."
Sullivan owns the restaurant and wears many hats, including bottle washer, server, cashier and cook.
"There's not any part of this I don't do," she said.
Her two sons and four waitresses also work at the restaurant that Sullivan says opened around the late 1950s and has undergone a few changes over the years.
Sullivan now accepts credit cards and is open for dinner. A fresh coat of paint on the walls complements the airplane décor.
The restaurant opens at 7 a.m. and Sullivan recently added dinner service.
That menu features appetizers, soups, salads, Angus burgers, steak, chicken and fish entrees, pasta dishes and desserts.
"I think (the draw is) the people who work here and the good food, and not necessarily in that order," she said.
"Everybody knows everybody, and those we don't know, we try to get to know."
Standing at the grill putting together an order of thick French toast, Sullivan conveys a soft spot in her heart for the restaurant and its connection to the city's aviation history.
"This place has got a lot of nostalgia in it - it's got a lot of personality," she said.
The restaurant is at 6500 MacCurdy Drive.
For information, call 445-6971.
Contact the reporter at jsoifer@prescottaz.com
More like this story