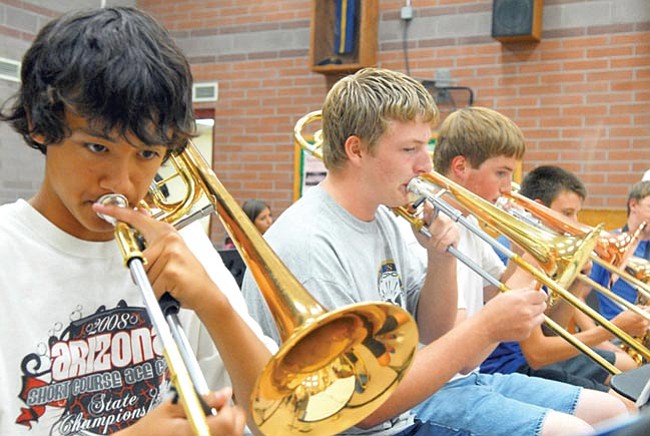 Originally Published: August 14, 2008 10:11 p.m.
This past Friday, Prescott High School music students got a little taste of what they're in for next weekend.
Mike Vax, veteran jazz musician and Prescott Jazz Summit director, stopped by the school for an instructional session with music students in advance of the eighth annual Prescott Jazz Summit, where famous jazz pros will join local musicians and high school students for performances throughout the weekend of Aug. 21- 24, interspersed with clinics taught by the visiting musicians between performances.
"I want the whole band to play with the energy of the trumpet section," Vax said, as he led Prescott High Music students through one of three tunes they are working up for the festival: "Which Craft," "One Note Samba" and "Chronometry."
"I want you to play out with conviction - articulations - more dynamics."
Prepping students for the weekend, Vax suggested they inundate their ears with jazz and research online, underscoring the main thrust of the festival - to engage the interest of young people with jazz, as well as providing a unique opportunity to play with seasoned veterans.
The public will enjoy quality performances while witnessing budding musicians absorbing the learning process.
Proceeds from concert ticket sales benefit music departments of local high schools, Summer Jazz Camp scholarships, and The Clare Willey Memorial Scholarship Fund, named after the festival co-founder who started the event with festival director and performer Mike Vax.
"It's like a jazz party. I bring in all these wonderful musicians, and I put them together in different bands," Vax said in an interview last summer.
Vax, a part-time Prescott resident, currently leads the Mike Vax Jazz Orchestra (formerly the New Oakland Jazz Orchestra) in the Bay area, consisting of musicians from famous big bands led by Stan Kenton, Buddy Rich, Duke Ellington, Tommy and Jimmy Dorsey, Glen Miller, Cab Calloway, Ray McKinley and Tex Benekey, according to the Prescott Jazz website.
Vax said he spends much of the year planning for the Prescott Jazz Summit as well as fundraising efforts for youth music programs in California through the non-profit Friends of Big Band Jazz.
Saturday's workshop at the Ruth Street Theater, combining instruction and jam sessions between students and visiting artists, has grown in popularity each year with local audiences.
"We're getting more and more adults coming to that because they say watching the interaction between the pros and the students is really something to see," Vax said.
"One of the things that people really enjoy is the spontaneity of it all. A lot of times when you go hear an organized band that rehearses together, it's fun and it's really well organized. But when you get these really world-class musicians, you put them together and just let them go. It's like magic."
Ticket prices range from $25 for Friday and Saturday evening concerts to $185 for Friday night's Meet the Musicians dinner and Sunday brunch and special concert seating.
Tickets are available at the Hassayampa Inn and the Prescott Chamber of Commerce, or by phone at 771-1268.
Visit www.prescottjazz.com for more information, or to purchase tickets online.
Joanne C. Twaddell contributed to this story.