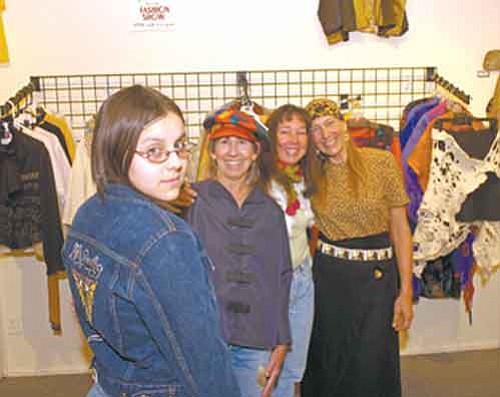 Originally Published: April 24, 2008 8:19 p.m.
If it was any other day of the year, the Arts Prescott Gallery might celebrate the opening of their new show like any other.
However, the 22-member artist co-op timed the opening of its wearable art show "Excentrique: Extraordinary Fashion Sculptures" with the celebration of the gallery's 14th birthday, 5 to 8 p.m., Friday, Art Walk night, with a fashion show and serving of cake and bubbly.
Mary Kay O'Neil, a co-op member of about five years,
said a few of the artists decided to do a wearable art show about a year ago, and time it with a birthday party to celebrate the gallery's success, even in a tough economy.
"The gallery has a lot of energy about it. It has a lot of renewal going on," O'Neill said of the past year, adding that the renewable art show has somewhat of a recyclable theme.
Co-op member Sherri Curtis, one of four artists who created the show's pieces, created her apparel from recycled fabric, and jewelry from recycled material.
"All this waste people are going through, you have to do something with it," she said.
Curtis, a photographer with several Grand Canyon pieces hanging in the gallery, also created a selection of jewelry pieces made from plastic packaging, cards she gets in the mail, and miniature photos she took at the Smithsonian, the Phoenix Art Museum and The National Aquarium.
Curtis said she studied environmental education in college, and participating in the show allows her to combine her interests in conservation, art and fashion.
"I think we should have more fun with what we wear," she said.
O'Neil, a jewelry artist showing at the gallery, said the show inspired her to finally use a sewing machine she bought four years ago, and to experiment with her knowledge of movement, color and texture.
"When you go out of your medium, it really opens up your creativity," she said, adding that working with fabric is already opening her up to ideas with jewelry work.
O'Neil's nature-inspired jewelry incorporates found
elements from the local environment, like cholla cactus and prickly pear cast in sterling silver.
For her pieces in the show, Michelle Johnson, a resident fabric artist with the co-op, makes her own fabric and dyes it.
Pat Blevins, a co-op artist specializing in hand-sewn beadwork, dolls and purses, created new works from recycled materials connecting art, people and life.
"This show is more about coming for fun, hanging out, and to just enjoying yourself," said Randy "Bubba" Shackleford.
Shackleford said that support for fellow co-op members dealing with issues like cancer or a death in the family in the past year has shown how the co-op provides artists a unique fellowship, and a place "not just to sell their art, but a chance to really become artists."
"It has given me an opportunity to become an artist in my hometown," he said.
More like this story