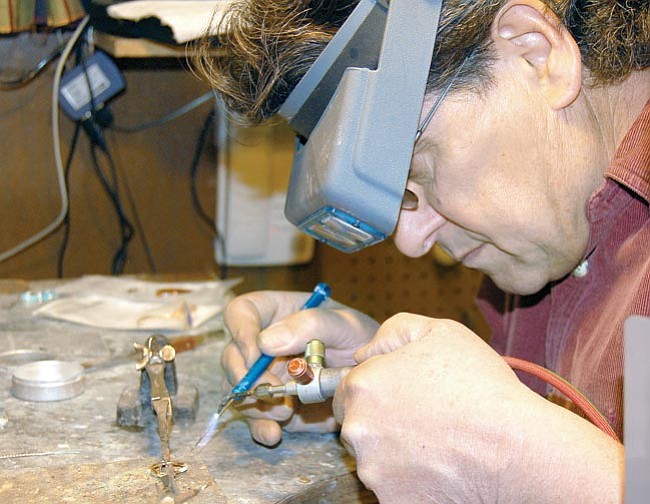 Originally Published: April 5, 2008 5:03 p.m.
PRESCOTT - Fred Tenca began his career as a jeweler nearly 30 years ago.
Tenca, owner of Tenca Design, works in the Kikkapoo Express Indian Jewelry store at 118 S. Montezuma St., applying his knowledge to repair items that customers bring in, as well as create artistically designed rings, bracelets, earrings and more.
Gold, silver and Indian jewelry are what Tenca mainly works on, and all of the pieces are unique.
"All jewelers are always learning, and I for one love to learn from everybody else," he said.
When he repairs a piece of jewelry that is missing a stone, Tenca goes through a labor-intensive process that includes finding a replacement, then cutting, shaping and polishing the gem before he buff-cleans it.
He might spend a few minutes sizing a ring or weeks tinkering with a piece of jewelry a customer asked him to create.
Tenca finds his work emotionally rewarding when he completes crafting a piece of jewelry.
"You just feel good that you've done something creative," he said. "There is no limit on what you can make because you have to be able to make anything."
Another important part of Tenca's job is to get a firm understanding of what his customers are looking for.
"You talk with people and learn what they want," he said.
The job requires Tenca to use his creativity, design and reproduction skills because of the variety of requests people come to him with.
One of Tenca's biggest challenges is letting go of the artwork that he bonds with while he makes it.
"I have to detach from them because otherwise I wouldn't be able to sell them," he said.
Contact the reporter at jsoifer@prescottaz.com