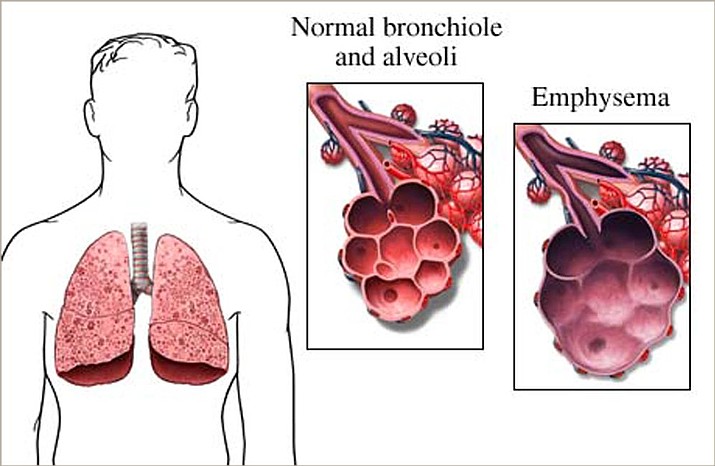 Originally Published: September 15, 2007 8:54 p.m.
Breathe in, breathe out; breathing is an unconscious act for most people, something they rarely think about, but for some, breathing is a struggle.
For those afflicted with chronic obstructive pulmonary disease, channeling air to the lungs is a struggle, made arduous by the chronic condition that affects them.
Elizabeth Page is one of the respiratory therapists with the Yavapai Regional Medical Center who is teaching a series of classes on COPD. Page explained that COPD is actually a medical term used to describe a group of breathing difficulties including bronchitis,emphysema, adult-onset asthma, and a range of other respiratory illnesses.
"All are respiratory conditions that affect the lungs, and they all, to some degree, create shortness of breath," said Page. "About 80 percent of them are caused by a history of smoking. They cause coughing, excess mucus in the chest, and lead to frequent respiratory infections. In a nutshell, these conditions affect people because they can't do things they were used to doing, before."
The first class, in August, gave an overview of what COPD is and how it affects people. The September class focused on the onset of winter, a time that is particularly hard on COPD patients.
"Patients with COPD can get really sick in the wintertime, and the more respiratory infections they get, the more breathing suffers," said Page. "Also, it's very important to prevent the onset of pneumonia, something COPD makes you particularly vulnerable too."
Page advised the class to get flu shots early, to stay away from sick people, especially sick children, and to maintain overall health with exercise, rest and plenty of fluids. She added that if a COPD patient does get a respiratory infection they need to see their doctor as soon as possible, and not to wait until it becomes serious.
"The classes are free, kind of a community service from the respiratory wellness program," said Page.
"For those with more serious COPD issues, we also offer one-on-one sessions where we do a complete evaluation and analysis of the person's condition and provide thorough patient education," she added.
"Those in-depth sessions aren't free, and they do require a physician's order, but they can usually be billed to Medicare or insurance."
Page said the goal of the respiratory wellness class is to aid patients in living the best life they can, despite the effects of COPD.
"Once you have once of these conditions of COPD, it won't go away. It's a chronic, progressive condition that will get worse, over time," said Page.
"It can be slowed down, however, and you can learn to live in a way where you maintain your quality of life, and preserve your health as much as possible."
Page added that the conventional wisdom on climate, and its affect on COPD, has changed drastically over the years.
"People used to think that those with respiratory problems should go places like Arizona, thinking the dry weather (will help them)," said Page. "It's not the case, really. Yes, we have a milder climate, here, but it's just exchanging one set of problems for another.
"The dust and allergens in the air here can be just as hard on COPD patients as cold can be, in some cases. They have to be just as cautious here as anywhere else."
For more information on the schedule of the COPD respiratory wellness courses YRMC is offering, the one-on-one COPD evaluations, or to RSVP for an upcoming course, call 771-5103. The courses are taking place at the Prescott and Prescott Valley YRMC locations.
Contact the reporter at dmeurer@prescottaz.com