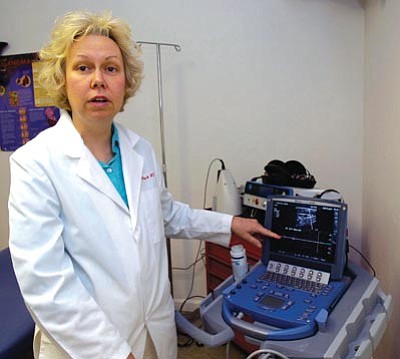 Originally Published: September 1, 2007 8:24 p.m.
Varicose veins are more than a unsightly cosmetic problem; they can become a serious health problem.
Left untreated, they can lead to blood clots that can spread to the lungs, severe skin problems and even ulcers, says Dr. Robin Fleck of the Southwest Skin and Cancer Institute.
"We had many clients here who would come in for treatment of spider veins, and we'd find they had varicose veins," said Fleck. "Before, we had no way to treat them, but now, we have a new laser-based way to treat varicose veins."
The old method of treating varicose veins was "vein stripping," a painful process in which surgeons physically stripped the veins from the body. The new method, Dr. Fleck says, is considerably less painful, more effective, and requires less recovery time.
"The new method we're using is called endovenous laser ablation, or EVLA," said Fleck.
"We insert a catheter through the groin; it goes through the vein system to the area of the varicose vein; and we fire a laser which seals the vein shut."
Fleck said the treatment will affect all the varicose veins below the laser-effected vein. The treatment causes little pain and most patients are able to walk shortly afterward.
"We ask that they avoid strenuous activity for a few weeks afterward, but it doesn't prohibit them from walking, working, and going about normal, daily life," said Fleck. "A lot of working people are affected by varicose veins, and they can't afford to have them slowing them down. The average age getting treated for varicose veins is between 50 and 60, but patients as young as 15 have received the treatment."
With varicose veins a prevalent concern for the elderly, Fleck decided to organize a vein clinic to educate people about the risks of varicose veins and the new treatment options available.
"While spider veins typically aren't covered by insurance, varicose veins usually are, as they can pose a serious health threat," said Fleck. "The primary cause is heredity, but a number of things can contribute to varicose veins. They're more than just unpleasant, and a reason not to wear shorts. For your health's sake, you can't ignore them."
At the clinic, Fleck will evaluate what problem-veins a person has, whether they are spider veins or varicose, and she will speak on the treatment options available for both. "When we do the full evaluations, we begin with an ultrasound scan to detect dilation and reflux in the veins, a sign of varicose veins," said Fleck. "If we detect that the blood is being drug down by gravity, rather then flowing back to the heart, it can be a serious problem. If we detect something truly dangerous, we refer the patient to see their doctor about it."
More information on vein treatments is available from the Southwest Skin and Cancer Institute at 778-0808.
Contact the reporter at dmeurer@prescottaz.com