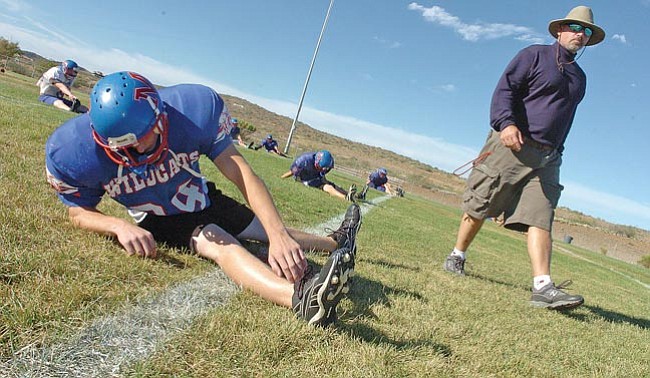 Originally Published: October 25, 2007 9:05 p.m.
Mayer isn't exactly Mogollon's favorite opponent in the world.
Over the last two seasons, the Wildcats have defeated the Heber school four times - including 28-20 in last year's 1A State finals.
The two schools meet again tonight in the eight-man quarterfinals. And the Mustangs have home-field advantage.
"We've got a little bit of a motivational factor there," Mogollon coach Ron Tenney said. "In the last two seasons, we've played Mayer twice both years and we fell short every time."
Thanks to changes with region alignment, Mayer didn't play Mogollon during the regular season this time around. The two teams do have several opponents in common and on paper, the Mustangs would be favored.
"We're going to try a lot of the same things. They were there (last week vs. Fort Thomas) looking at us, they have film on us from the last couple of years," Wildcats coach Rick Lashley said. "It's not like anybody has a secret. I'm going into it optimistic and as long as the kids play with heart, we'll come out with a victory."
Fans in the stands should expect to witness a hard-hitting affair. Mogollon has a freshman phenom at quarterback and the Mustang running game is exceptional.
"Our defense definitely has to come out and hold them as much as possible," Lashley said. "They will just continually pound the ball, pound the ball. ... They do a lot of play-action stuff. As long as our linebackers and defensive line does the job in the beginning and can force them into (Roland) Medina's defense, I think we have a real shot."
Tenney calls his team young, which might be bad news for the rest of 1A over the next couple of years. The Mustangs have defeated playoff teams in their last three outings - Pima (38-34), Orme (62-14) and Joseph City (44-12). Mogollon received a first-round bye in the postseason as a reward for winning the North Region.
"I understand Mayer has their boys healthy with (Steven) Want, (Aaron) Sullivan and (Luke) O'Sullivan," Tenney said. "With them being healthy and going, we're anticipating another dogfight. Hopefully that ninth man with the crowd and being on our home field will help."
Williams, a team that failed to make the playoffs and won just two games, defeated Mogollon, 16-12, back on Sept. 7.
How did the Vikings defeat Tenney's team?
"I don't know," he joked, then added, "If you're going to take a loss, you want to see them come in September but not October or November. It was a wake-up call for us as players and coaches. We went back to the drawing board and I think it paid off."
Even though the two schools have gotten to know each other well over the past two years, the Mustangs and Wildcats each have new looks.
"I think both of our teams were kind of senior-laden last year," Tenney said. "Along with Coach Troy (Head) leaving, they've got a lot of new faces not only on the playing field but on the sidelines. For us, a lot of them don't remember the painful ordeal of being on the sidelines (in last year's finals) and watching them celebrate."
The winner advances to the 1A semifinals next Saturday in Apache Junction to face either Valley Union or Valley Lutheran.