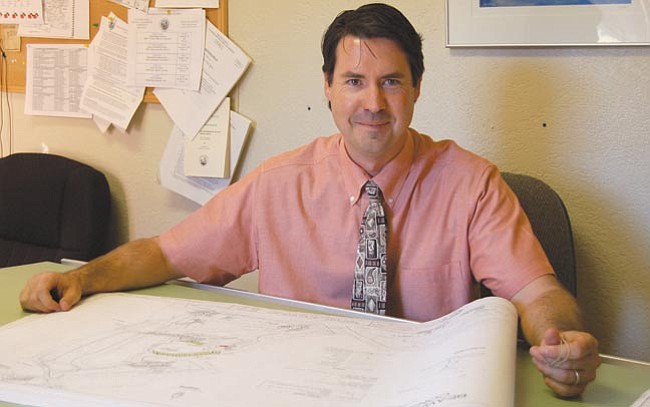 Originally Published: October 14, 2007 8:30 p.m.
Editor's note: The Board of Supervisors will receive a report from one non-elected department director during each regular meeting in 2007. The Daily Courier will report on each department before its scheduled meeting with the supervisors. Today's report is about the Yavapai County Flood Control District.
PRESCOTT - The Yavapai County Flood Control District is a regulatory agency within the Development Services department. Director Ken Spedding said the district regulates flood plain development and manages development along watercourses. Everything, he said, "is tied to the National Flood Insurance."
Spedding said the flood control district does not regulate lot-to-lot drainage; however, it does help people who have questions about landscaping or hiring an engineer.
"Most of our work is management," he said.
Floodplain Unit Manager Jeff Low identified the purpose and goals of the district in a presentation to the Board of Supervisors.
Low said these include identifying flood hazards and associated problems; development in and along watercourses with drainage areas greater than 80 acres; the construction of flood control and drainage-related structures; and maintaining and operating flood control and drainage structures.
Additional goals include operating a network of stream and rainfall gauges and flood warning systems; maintaining the county's Watercourse and Drainage Master Plan; a storm water management program for pollution discharge elimination; and educating the public about flood prevention and safety.
"A good portion of our job is education," Low said.
Spedding said district employees give the public information about developing in a flood plain.
"We also provide parcel information in regard to location within a floodplain," the director said.
All development within designated flood hazard areas requires a development permit from the Flood Control District. The Federal Emergency Management Agency audits development permits every five years. Permitting must be coordinated with all staff members, including building officials and inspectors.
Spedding said the Flood Control District employees work on construction projects ranging from channel design to storm drainage. He said the district maintains several levees within the county and looks at erosion issues.
The district works with cities and towns on flood plain management.
The Flood Control District has an annual budget of $4.5 million. It collects a countywide secondary property tax of $0.1723 per $100 of assessed valuation. A variety of federal, state, district, county and city cost-sharing partnerships pay for district projects.
"The flood control district tax is collected countywide and the money is returned to cities and towns through intergovernmental agreements for flood control and drainage projects," Spedding said.
Low said the district gives people a flood status report as a free service. People can obtain reports from the district office or by visiting the county website.
Anyone wanting more information about the Flood Control District should call the flood control office at 771-3197 or visit www.co.yavapai.az.us.
Contact the reporter at prhoden@prescottaz.com
More like this story