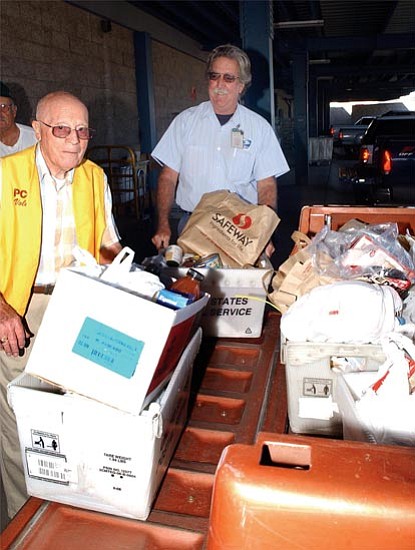 Originally Published: November 18, 2007 8:39 p.m.
PRESCOTT - As local food banks continue to suffer from diminishing supplies of non-perishable items on their shelves this fall, the Prescott-area U.S. Postal Service's Thanksgiving food drive could not have come at a more opportune time.
Early Saturday afternoon, Prescott's main post office on Miller Valley Road served as a drop-off center for boxed and canned foods that streamed in from local Safeway grocery stores as well as postal carriers who picked up food from the residences where they deliver mail.
Reid Schilling, postmaster for Prescott and Prescott Valley, was on hand to help gather food from some of his carriers on their routes.
He said the national day for post offices to conduct a food drive occurs in the spring around Mother's Day. Prescott's post office participates in that event, but its local fall food drive is separate and has existed for 25 years.
"Obviously, we want to get the food banks as full as they can so they don't have to struggle through the winter," Schilling said.
John McCaw, the Prescott post office's food drive coordinator who has assisted with these events biannually for the past 12 years, said he hoped the drive would generate 30,000 pounds of donated food.
"The need is always there, but it seems to be greater around the holidays," McCaw said. "We have a few more seasonal people that are out of work."
The Prescott Community Cupboard Food Bank and the Yavapai County Food Bank sent trucks to the post office for pickup Saturday.
At around 3 p.m., carriers started arriving at the post office with food from their routes.
"It's getting bigger and bigger," McCaw said of the fall drive. "We get as many food banks covered as we can."
From 10 a.m. to 1 p.m. Saturday, Sanford Cohen, radio personality for KPPV 106.7 FM in Prescott, and several station employees gathered food such as cereal, pasta and canned goods from residents outside Safeway stores in Prescott, Prescott Valley and Chino Valley.
They handed off the food to the post office branches in those locations, which in turn give it to the food banks in those municipalities as well as the Yavapai Food Bank.
In the early afternoon, Cohen and his crew loaded three pickups full of non-perishable food - one from each area Safeway store - and handed it off to post office employees in the tri-cities.
"Some people have actually brought us some frozen turkeys and stuff, and Safeway stores have been good enough to house those during the drive, and then we'll transport them over there (to the post offices)," Cohen said. "But 99 percent of what we have is non-perishable."
In Prescott, postal workers loaded up the radio crew's food into their work vehicles and dropped it off behind the post office on Miller Valley Road. Once the food arrived, food bank volunteers came to load it into their trucks. They then returned to their locations to sort the food and stock it.
Cohen said members of his radio crew have participated in the post office's annual Thanksgiving food drive for six years dating back to 2001.
"I've been very satisfied with the level of donations that we've received year to year," he said. "Right now, if you walk into the food bank and you see, their shelves are just absolutely empty. It's a horrible sight."
Cohen's crew has always volunteered the weekend before the holiday outside the grocery stores because they think that people planning a big family meal can afford to throw a couple extra items in their basket while they are shopping and donate them to the cause.
"The economy has been a little bit iffy, so donations are down almost across the board," he said. "The shelves are generally empty this time of year, whether times are good or bad. But the need is probably much greater this year than it has been the last few years. So that makes this year's food drive that much more important."
Contact the reporter at dcook@prescottaz.com
More like this story