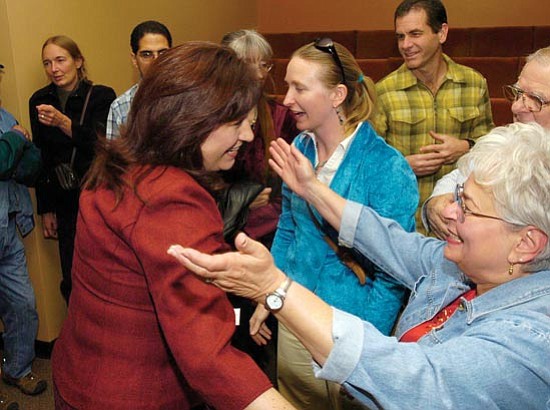 Originally Published: November 6, 2007 10:10 p.m.
PRESCOTT - Adding to the political transformation that they started in September with the election of a new mayor, voters chose a new council member Tuesday.
Lora Lopas, a political newcomer, outdistanced long time incumbent Steve Blair by about 700 votes in Tuesday's general election to win a seat on the City Council.
With nearly 59 percent of Prescott's registered voters casting ballots, Lopas ended the night with 7,041 votes to Blair's 6,344.
That came as welcome news to the several dozen Lopas supporters who gathered at City Hall Tuesday night to hear the results. The crowd erupted in applause when City Clerk Elizabeth Burke announced the results around 7:30 p.m.
Afterwards, Lopas, co-owner of a local real estate firm, attributed her win largely to those supporters.
"A lot of it was the campaign; having a lot of volunteers," she said of the deciding factor in the race.
Especially with the candidates espousing similar views on many of the issues, Lopas said, "You've got to have a full campaign, and you've got to go out and meet the public."
In recent days, for instance, Lopas said her campaign volunteers made about 12,000 telephone calls encouraging people to get out and vote.
Along with road signs and media advertising, Lopas' campaign used about 100 car magnets, which served as moving campaign signs all over the community.
Blair, a local business owner who served eight years on the council, said the results showed the community's desire for a new direction.
"The people wanted a change," he said Tuesday night, after hearing the results. "Maybe they wanted a woman."
While he expressed some disappointment at the loss after "spending eight years (in) community service," Blair said, "I'm going away, but I'm not done. I'll be back (on the political scene)."
One of Lopas' supporters was Mayor-elect Jack Wilson, who said he campaigned for her and was "gratified that the voters elected her." He added: "It will make my agenda easier to implement to have a friendly face on the council."
Even so, both Wilson and Lopas discounted the community speculation that they would align with Councilman Robert Luzius in an effort to bring about a shift of power on the council.
While Lopas said she and Wilson "have a lot of the same ideas," she said she is "a little insulted" by claims that she would automatically vote with Wilson and Luzius. "I'm an independent thinker," she said.
Added Wilson: "There was no such thing as a slate. The voters were just tired of the shenanigans (of the current council)." He cited "not being listened to" along with the council's staunchly "pro-business" stance as examples.
Lopas will join Wilson and incumbents Mary Ann Suttles and Jim Lamerson for the Nov. 27 oath of office.
Wilson, Suttles and Lamerson all won seats outright in the September primary by getting more than half of the votes cast. Blair and Lopas, third and fourth respectively in the primary balloting, went on to this week's general election for a run-off.
More like this story